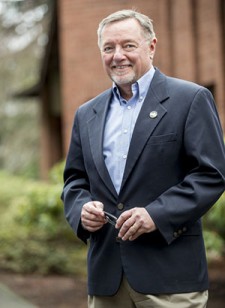 Professor of Humanities
Email cdawson@warnerpacific.edu
Phone 503.517.1047
Education
Ph.D. History, Miami University
M.A. History, Miami University
B.A. Social Studies, Anderson University
Background
Dr. Cole Dawson was born and raised in eastern Virginia where he became enthralled with the region's rich historical sources from an early age. He credits his professional interests in research and teaching of history to great teachers and to living in the midst of historic places and times.
Dr. Dawson left Virginia to attend college at Anderson University in Indiana where he received a B.A. in history. From there he entered Miami University in Ohio where he completed an M.A. and a Ph.D., both in history.
Over a thirty year teaching career, Dr. Dawson has taught a wide range of history and humanities courses at a branch campus of Indiana University, at Miami University, and at Warner Pacific College. He most enjoys overturning popular perceptions that history is boring and, by connecting the present to past events, demonstrating how useful knowledge of the past can be.
Dr. Dawson became Interim Dean of the Faculty in 2005 and was named Vice President for Academic Affairs and Dean of the Faculty in 2006. He serves the faculty, oversees the curriculum and represents the College to the Northwest Commission on Colleges and Universities.
Dr. Dawson and his wife Linda have three adult children and seven grandchildren. They live in Vancouver and worship at Good Shepherd Episcopal Church.
(*Dr. Dawson stepped down from this position in June 2015 and will return to campus for the Fall 2015 Semester as a Professor of History. Dr. Reginald Nichols was hired as the new Dean and Vice President for Academic Affairs as of June 29, 2015. Dr. Dawson will return to campus for the Spring 2016 semester.)