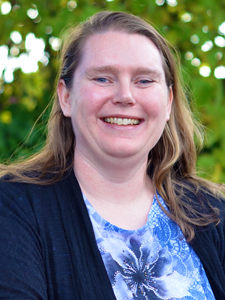 Associate Registrar of ADP and Associate Professor
Email EDavis@warnerpacific.edu
Phone 503.517.1458
Education:
Ph.D. in Higher Education, Indiana University, Bloomington, Indiana
M.S. in Student Affairs Administration, Indiana University, Bloomington, Indiana
B.A. in History and English Literature, Saint Mary's College, Notre Dame, Indiana
Background:
Prior to being hired as the Associate Registrar and heading up the Student Services area for ADP in July 2007, Erin's background is in academic advising, first-year experience, and program development.  In addition to her administrative duties, Erin is teaching courses in the undergraduate programs for ADP.
Research/Publications:
Review of Guide to College Majors: Everything You Need to Choose the Right Major by the Princeton Review in NACADA Journal 23 (1&2).
Review of Civic Responsibility and Higher Education by Thomas Ehrlich (Ed.) in NACADA Journal 20(2)
"Making a Difference in the Lives of New Students: A Comprehensive Pre-Advising Assessment for the First Semester," NACADA Region V Conference, Kalamazoo, Michigan, April 22-24, 2001.
"Out of the Cocoon: Growing Wings on the Run – A Metamorphosis of a Learning Community Team," Annual First Year Experience Conference, Houston, Texas, February 16-20, 2001.