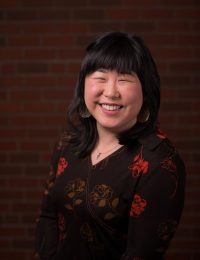 Chiu, Ann Matsushima
Title: Electronic Services & Instruction Librarian
Office of: Academic Affairs
Department: Library
503.517.1118
Education:  
Master of Science, Library and Information Science; University of Illinois, Urbana-Champaign
Bachelor of Arts, Art History & Criticism; University of California, San Diego
Areas of Teaching:
Research Methods
Information Literacy
Library Instruction
Research Passion:
Zine librarianship
Information-seeking behavior of undergraduate and non-traditional students
Diversity and social justice in librarianship
Student engagement through library programming
Academic Accomplishments:
Chiu, A.M. (2018). The Invisible Library: Engaging Information Literacy with Students that Avoid the Library at All Costs. Session presented at annual Online Northwest Conference in Portland, OR.
Cain, B., & Chiu, A. (2018). The Accidental Library User: Promoting Library Services to Non-Traditional Students. Poster presented at annual Oregon Library Association Conference in Eugene, OR.
Chiu, A.M. (2017). Engaging the Future of Zine Librarianship. In Y.S. Cura & M. Macias (Eds), Librarians with Spines: Information Agitators in an Age of Stagnation, pp. 23-43. Los Angeles: Hinchas Press.
Recipient of the 2016 Graduate Student Edith Harris Camp Award (UIUC)
Professional Affiliations:
American Library Association member
Asian Pacific American Library Association- Archives & Web Content committee member
Association of College & Research Libraries member
Beta Phi Mu International Honors Society- Alpha Chapter (UIUC)
Portland Zine Symposium organizer
Background:
Ann Matsushima Chiu is the Electronic Services and Instruction Librarian at Warner Pacific's Otto F. Linn Library. Previously, she was an assistant library coordinator & archives researcher at UCLA's Asian American Studies Center Library, as well as a circulation & reference library assistant at the Oregon City Public Library. Ann is a visual artist, community organizer, and zinester. She can be found gardening or organizing community events for the zine and independent publishing community and Asian American community.
Favorite Quote:
"If we see the poor as the target of our mission, we'll miss the boat… Justice is doing more than saving the drowning people; it's changing the ones who are pushing them into the lake." Noel Castellanos