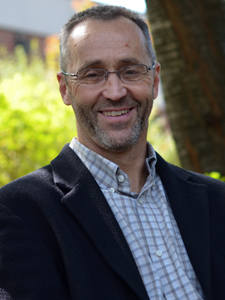 Associate Professor of Philosophy and Rhetoric
Email TBaker@warnerpacific.edu
Phone 503.517.1237
Education:  
M.Div., Philosophy Concentration, Princeton Theological Seminary, Princeton, NJ
B.A., Philosophy, University of Portland, Portland, OR
Background:
Hired in 2000, Terry teaches courses in philosophy and in the interdisciplinary Humanities core curriculum.  In his teaching he seeks to promote an awareness of the social dimension of inquiry and knowledge.  He also explores with his students the role of texts (broadly defined) in our social existence.  Away from the classroom, he enjoys time on a tennis court as well as reading good books with his son, Will.
Professional Affiliations:
Society for Scriptural Reasoning
Research/Publications:
Kierkegaard: A Man for All Disciplines" – Seminars in Christian Scholarship (participant), Calvin College, Summer 2000
"Beyond Using John Malkovich" – Panel: Being John Malkovich and Continental it Philosophy,  American Academy of Religion National Meeting, 2001
"Theological Grammar and Strategic Planning" – Paper, The Schooled Heart: Moral Formation in American Higher Education, Baylor University, 2003
"Postmodernism: What it is and How it affects the Church today" – Lecture and Presentation, How to Convention (Church of God, Anderson, IN), 2004
"Getting Your Money's Worth out of the FYE Program" – Presentation, First Year Experience National Conference, 2008