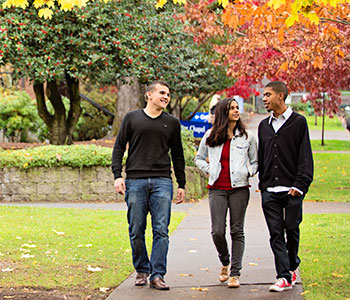 Are you…
Nervous about the cost of college?
Concerned about repaying your student loans?
Uncertain about what career you will choose?
Considering a career in public service or ministry?
You've got a bright future ahead of you; worrying about student loan debt shouldn't be part of it.
At Warner Pacific, we understand that choosing a private, Christ-centered, liberal arts private college comes at a cost. Too often, the anxiety of having to repay educational loans results in students abandoning their first choice school or field of study in order to pursue the college or program that will cost the least.
We are confident in the value of the educational experience at one of the best private colleges, Warner Pacific College. All incoming first-time freshmen in our traditional undergraduate program (entering in Fall 2014, 2015, and 2016) will be automatically enrolled in "Freedom to Flourish," our innovative loan repayment assistance program.
Nationally, Warner Pacific is ranked as a Top 10 Regional College and recognized for our quality yet affordable education.  Since 2014, the "Best Colleges" list by U.S. News & World Report named Warner Pacific  a "Great School at a Great Price."
With Freedom to Flourish, Warner Pacific will help you repay your student loans if your first job after graduating from the College is primarily about service and experience rather than dollars and cents. Warner Pacific wants to reassure you that student loan debt will not stand in the way of your plans for the future.
Freedom to Flourish empowers these graduates to secure a well-paying job after graduation or ensures their ability to repay their loans while following their dreams.
To Qualify:
Earn a bachelor's degree (B.A. or B.S.) from the College
Be employed at least 30 hours a week
Earn less than $37,000 annually after graduation
Assistance provided for federal and private student loans as well as Parent Plus loans
2016-17 Freshmen Class Eligibility
Incoming freshmen must:
pay enrollment deposit by May 1, 2016
enroll at the College for Fall 2016
Students who pay their deposit after May 1, 2016, will be considered for the program on a case-by-case basis.
Freedom to Flourish Value Statements:
Empowers you to choose a major that aligns with your passion and unique calling.
Allows you to enter the job market without anxiety.
Provides a safety net to help ease the burden of student financial loans
Reinforces that as part of the Warner Pacific community, you are not alone. You have a supportive network dedicated to working with you on your journey toward personal and professional success.
"The mission of Warner Pacific College focuses on educating the next generation of urban and diverse leaders; the Freedom to Flourish program not only provides a way to proactively address college affordability and access, it is at the heart of who we are as an institution. I know that Freedom to Flourish is going to provide peace of mind to our students and their families as they consider their college option," comments Dale Seipp, Vice President for Enrollment and Marketing, Warner Pacific College.