At Warner Pacific College, our faculty is excited to be part of preparing students to become highly knowledgeable, caring, effective PK-12 teachers. We exemplify and champion the Biblical characteristics of wisdom, purpose, calling, and excellence among our students and in service to the schools and communities they join.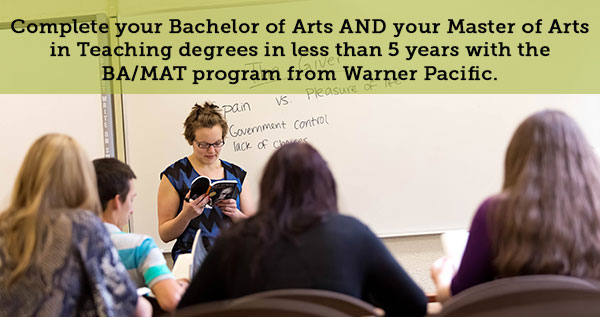 ---
Graduates of the teacher education program meet the standards established by the state for "highly competent" teachers and are eligible for licensure in Oregon and/or Washington in one or more of the following grade levels and subjects:
Early Childhood/Elementary Education (multiple subjects)
Early Childhood Education (ECE), age three to grade four
Elementary Education (EL), grades three to eight
Middle/High School Education (biology, health, language arts, math, music, physical education, social studies)
Middle Level (ML), grades five to ten
High School (HS), grades seven to twelve
Music and Physical Education, kindergarten to grade twelve
What Else Can You Do With an Education Degree?
Most students begin our programs with the goal of becoming classroom teachers in schools across the country; however, an education degree will also open the door to many other opportunities. Career choices after college might include:
Librarian
Counselor
School Administrator
School Psychologist
Adult Educator or College Professor
Educational Consultant
Recreation and Leisure Specialist
Pastor or Youth Minister
Publisher
Employee at a Professional Education Organization such as National Education Association (NEA), American Federation of Teachers (AFT), Phi Delta Kappa, or Kappa Delta Pi, to name just a few
Graduate Studies
At Warner Pacific, we're here to support you as you explore all that becoming an educator has to offer. We take pride in preparing students to embark on careers in education that span the globe and make a difference in the lives of others.
Take your next step toward becoming a professional educator: