Warner Pacific College – Enactus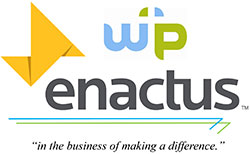 A head for business with a heart for the world! We are a club that "Gets it done."
Enactus is a non-profit organization internationally recognized. A club dedicated to serving the community with each of our skill sets using business practices to execute and fulfill needs.
What does the name "Enactus" signify:
A community of student, academic and business leaders committed to using the power of entrepreneurial action to transform lives and shape a better more sustainable world.
entrepreneurial—having the perspective to see an opportunity and the talent to create value from that opportunity;
action—the willingness to do something and the commitment to see it through even when the outcome is not guaranteed;
us—a group of people who see themselves connected in some important way; individuals that are part of a greater whole.