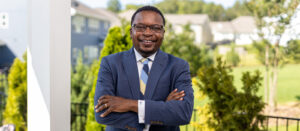 Welcome to Warner Pacific University! The 2020-2021 academic year will be undertaken during a period of unprecedented times. In spite of the uncertainty of this pandemic that will affect higher education institutions across the nation, Warner Pacific University will remain flexible, dutiful, watchful and continuous in our following the great grace upon our institution that has sustained it since its founding in 1937. As Warner Pacific University's newly appointed 8th President, I am confident that we will continue to move forward into a very bright future while building upon the foundation of the past 12 years under the wonderful leadership of President Andrea Cook.
My leadership team and I will continue to emphasize and value Warner Pacific University's standing as a vibrant, progressive university located within the beautiful city of Portland, Oregon. Warner Pacific University is and will remain a Christ-centered urban liberal arts university dedicated to providing students from diverse backgrounds an education that prepares them to engage actively in a constantly changing world. Over recent years, we have come to better understand our mission statement and how it applies to the unique setting of our campus. We seek to educate students who welcome the learning that comes with living in an increasingly diverse and thriving urban environment. Still further, the institution will continue to be guided by its foundational principles and evolution within the past 12 years as a dynamic, progressive institution while maintaining values that embraces its tradition, yet remains open to embrace the particular trajectory we are called to fulfill. To this end, I wish to reiterate and underscore President Andrea Cook's words from excerpted from the 2019-2020 Catalog:
"Four core themes run through our mission statement and guide the holistic educational process at Warner Pacific University. First and foremost, we are Christ-centered. We use that language intentionally! We believe the life and teaching of Jesus Christ provide the best framework for a learning community. We welcome students from diverse backgrounds to come and engage in a learning experience that provides the best of community participation and strives to reflect the character of Christ.
Second, Warner Pacific University is committed to collaborating with and for our urban context. We are fortunate to be located in the City of Portland, where students can engage in learning, serving, leading, interning and working in this city. The world is becoming increasingly urban, and we believe students will be best prepared if they experience opportunities to navigate and apply their learning in an urban context. Beyond that, we believe we have a tremendous opportunity to love and serve our neighbors as we seek the flourishing of our city.
Third, we believe that a liberal arts education provides the best foundation to prepare students to engage actively in a world and economy that is constantly changing. Increasingly, students are pursuing career-focused majors. We believe our liberal arts core provides an important foundation for students to gain the essential skills for leadership and success in all of life's pursuits. The liberal arts provide a common understanding of our context, develop students' ability to learn and be adaptable throughout their lifetimes, and cultivate the ability to think critically and make good decisions. A central element of our curriculum is the Humanities Core, which equips students with the critical reading and thinking skills to help them decipher good answers through the complexities that arise in engaging real-world questions. As a result, you will be thoroughly prepared for leadership and service as you encounter life's paradoxes and the challenges of your life's calling.
Finally, we are committed to investing in the formation and success of students from diverse backgrounds. We believe a Christ-centered urban education at Warner Pacific University should be accessible and welcoming. We embrace students from diverse backgrounds as they study and live in a community that is characterized by low student to faculty ratios (small classes), intentional mentoring, and a support system that encourages intellectual, personal, spiritual and vocational development.
Many new possibilities await you as you embark on your educational journey at Warner Pacific University. Make the most of each class, each friendship, and each opportunity you encounter – our desire is for you to flourish in every aspect of your life."
In closing, I wish to offer the words of Os Guiness as you undertake the 2020-2021 academic year: "All callings are made sacred by the Caller." Warner Pacific University will continue to assist each of our students to fulfill their unique callings within a myriad of fields throughout Portland, the northwest region, the United States of America and the world.
Sincerely,
Brian L. Johnson, Ph.D.
8th President, Warner Pacific University