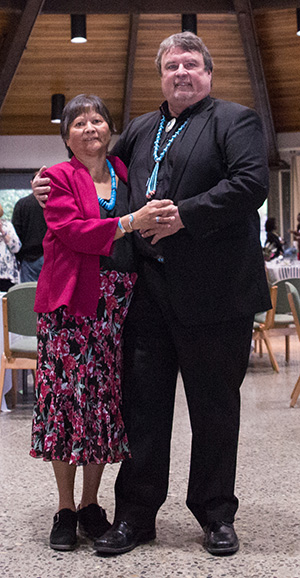 Mark Forster '82
Warner Pacific's Distinguished Alumni: Ministry & Service Award is presented to an alum who has given his/her life to ministry, or has provided outstanding service in the professional field or in the community.
Christ said let the little ones come to me and that has been Mark's personal motto in life. He hopes to change a society for the good by creating opportunities for people to succeed. This can change someone's entire outlook and in turn their community.
After working several years at Wide Ruins Boarding School on the Navajo Reservation in Arizona, Mark and his wife Marlene (also a Warner Pacific alum) moved to nearby Sanders where he set to work on making positive changes for his neighbors. "Community Building has always been strong in my family," comments Mark about the call to be a change-agent in such a depressed area where drug and alcohol abuse was high, unemployment spiked above national averages, and suicides were not uncommon.
He goes on to share, "The vehicle I chose to make a positive community change was high school basketball. In my first year coaching (1986-87) maybe 100 people watched a game because the team usually won only one or two games a year. That year, however, the team won 17 games and lost 7. After 29 years of coaching, I have had only one losing season. We now fill the 1200-seat gym with spectators."
Basketball continued to fuel his desire to reach the community. In the early 1990s he developed an innovative Pee Wee Basketball League. Designed for children ranging from kindergarten to 8th grade, players were able to participate for free. For 12 years, "children would travel for 50 miles to be in the program. For four days a week in the fall and spring, 300 children participated and were mentored in school and life challenges."
Basketball changed Mark's community's social outlook. He recalls that "parents become more and more involved with their children's lives which combats negativity." Mark hung up his coaching whistle in 2016 but not without a court-side send off with many former players attending.
Mark has had numerous opportunities to "advance" his coaching career by way of job opportunities at larger high schools and even at the college level, but he chose to stay serving his community. He has made a life-long commitment to the Navajo community because he believes that is the way one person can change society.