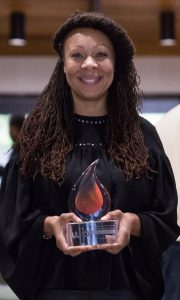 Sah'Rah Kelsey Bey '02
Warner Pacific's Distinguished Alumni: Adult Degree Program Award is presented to an alum who has made significant accomplishments in his/her field, ministry, or community and graduated from the College's Adult Degree Program.
Sha'Rah strives to give young women of African descent in her community a voice, a sense of belonging, and access to an education. With an entrepreneurial heart, she has created opportunities to reach and empower these young ladies.
She is reaching out to African-American women of all ages through Sah'Rah Stylz, a community-based organization that focuses on beauty, mental health, and wellness. Always encouraging them to realize their inner beauty.
Sha'Rah is also the Executive Director and founder of Sista Sistah, an after-school program for young girls and women of African descent in NE Portland. Through this program, she is able to engage, educate, and inspire young women with a culturally responsive program that increases self-efficacy and awareness. The organization's goal is to increase high school graduation rates and self-esteem for these young ladies.
Through the Warner Pacific Adult Degree Program, Sha'Rah earned a Bachelor of Business Administration which strengthened her leadership and organizational skills. It also provided her with a true life story to share with young women about how much you can accomplish for the betterment of your community with a good educational foundation.