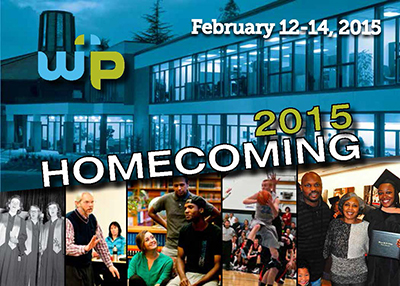 Homecoming is a wonderful chance to reconnect with your favorite staff and faculty, check-in with former class mates and cohort members, and share what's happening in your life.
Please continue to check back here for updates for the entire Homecoming celebration weekend (February 12 – 14, 2015).
Adult Degree Program Graduates…

Join us on Saturday, February 14, for two special events that will focus on celebrating the Adult Degree Program!
Professional Networking Event: enjoy a panel discussion with some of our area's most prominent business leaders and get a chance to network with other professionals in your field. (Sponsored by Liberty Mutual Insurance.)
ADP Anniversary Celebration: join us for an informal reception to honor the staff, faculty, students, and graduates of the Warner Pacific Adult Degree Program!
Events start at 2 p.m. in the Egtvedt Dining Hall on the Mt. Tabor Campus (2219 SE 68th Avenue, Portland).
---
Follow Homecoming news on Twitter and on our Facebook timeline.