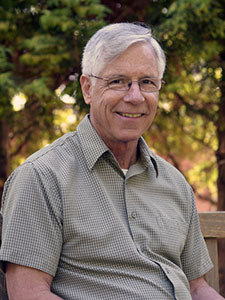 Professor of Music
Email DPlies@warnerpacific.edu
Phone 503.517.1060
Education:
D.A.  Music Performance and Pedagogy: Western Colorado University 1983
M.M.  Percussion: American Conservatory of Music 1972
B.A.  Music: Biola University 1966
Background
Dennis began his affiliation with WP in 1979 as an adjunct, teaching percussion and piano students. Since 1981 he has been teaching full time in the Music Department. In 1995 he began teaching the Humanities 310 (Faith, Living, and Learning) course and subsequently HUM 410 involvement over the years. In 1999 he experienced a very meaningful sabbatical whereby he studied the finest of higher education teaching by visiting scores of classes and professors from about 30 institutions, culminating in the writing of a Sabbatical Report. Dennis continues to play classical marimba and jazz vibes professionally, in Tabor Duo and Mirage respectively. His latest recording, Minor Inconvenience, demonstrates his vibes artistry within a jazz quintet of professionals. Dennis' particular academic and musical interest is the process of jazz improvisation, how to teach it and how it suggests vital links with the understanding of faith.
Research/Publications

Sabbatical Report 1999
Playing the Sunset 1996
To Will To Be Himself Is Man's True Vocation 1993-94
How do you Ensure Musical Experience Early-Level Lessons? 1991
Embracing the Unforeseen: Improvisation in Life and Faith, 176 pp. book, 2014
About Dr. Plies
WPC classes taught: Jazz Band, Aural Skills, Functional Keyboard Skills, Humanities: Faith, Living, and Learning.
What excites you most about the WPC community? Being a part of purposeful teaching for academic and spiritual growth; experiencing freedom to develop learning communities; participating as a co-learner.
What kind of hobbies or special activities do you enjoy? Hiking, traveling, going to concerts and jazz clubs, attending lectures, hanging out with friends over coffee, collective thinking with others, writing, disciplines of walking, resistance exercise, yoga, and breathing.
What were your childhood goals/aspirations? Clueless, so being an elevator operator looked attractive. Also, I wanted to be Billy Graham's administrator.
What are you listening to in your car right now? NPR, KMHD, KBPS—news/interviews, jazz, classical; Beethoven Piano Concerti, Sean Jones, Miles Davis, Kurt Elling, Keith Jarrett, any piano music—classical and jazz.