Shaping the leaders of tomorrow.

The Act Six Leadership and Scholarship Initiative is Oregon's only full-tuition, full-need scholarship for emerging urban leaders who want to use their college education to make a difference on campus and in their communities at home.
Headquartered in Tacoma, Washington, Act Six's national office operates under the auspices of the Northwest Leadership Foundation, a Christian-based organization that addresses issues of inequality and injustice in urban settings. Act Six recruits diverse, multi-cultural cadres of Portland's most promising emerging leaders. Once accepted into the program, students are trained within their "cadres" for a year prior to college entrance.
For more information, visit www.actsix.org.
---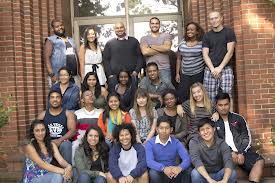 Learn more about our current Act Six students – click here.
Warner Pacific welcomed its first cadre of students in the Fall of 2010, with subsequent cadres starting each year thereafter. Our unique urban service track is for students who desire to attend college in an urban environment while starting their college education at a community college before transferring to Warner Pacific. This Urban Service track provides a unique opportunity for scholars to live on campus at Warner Pacific for four years. Throughout all four years, Warner Pacific and Act Six staff provide ongoing leadership development, internships and preparation in a wide variety of areas, from money management and study skills to race relations.
Ready to Learn and Lead – Story in the 2010 Winter issue of The Experience Magazine