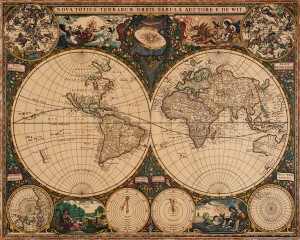 Our History and Social Studies major will help you take an informed and active role our local, national, and global community.
The Humanities department provides students with scholarly and practical opportunities for learning about the discrete disciplines of Communications, Drama, English, the Fine Arts, History, and Philosophy.
Students are also offered the opportunity to ground their undergraduate experience in an American Studies major, a History and Social Studies major, or a Liberal Studies major, as well as the Humanities Core curriculum courses.
All Humanities courses seek to instill the significances of and the means by which discrete disciplines within the Humanities interact not only with each other, but also with fields of study outside the traditional purview of the Humanities. Learning is done with a conscious awareness of how the study of the Humanities relates to a Christian worldview.
---
Courses
Part 1: General Education Core
(See Core Studies Requirements)
Part 2: History and Social Studies Major
38 credits (minimum): 18 credits in residence, 17 credits upper division. Required:
PSY 140/141
General Psychology
3
PS 140
American Government
3
EC 203
Economics
3
HIS/SOC 340
Ethnic Relations in the U.S.
3
HIS 306
Seminar in U.S. History
3
HIS 316
Seminar in European History
3
HIS 321
Seminar in World History
3
HUM 391/392
Humanities Internship
2-5
6 Credits in U.S. History. Choose From:
HIS 206
Strangers Among US: Immigration and the Borderlands
3
HIS 207
The Good, The Bad, The Ugly: A History of the American Presidency
3
HIS 208
U. S. History Through Film
3
HIS/URB 370
History of the American City
3
Select 3 credits in non-U.S. History:
HIS 216
Royals and Revolutionaries
3
HIS 221
Apartheid and Genocide in 20th Century Africa
3
HIS 222
Latin American Politics and Social Change
3
HIS 223
China and the West
3
Select 3 credits from the following:
SOC 140
Principles of Sociology
3
SS 351
Cultural Anthropology
3
Select 3 credits from the following:
PS 315
Government in States and Communities
3
PS/SOC/SS 335
International Relations
3
PS/SOC 345
Social Problems and Public Policy
3
Major Outcomes
Graduates collaborate in professional communities by articulating how the field of history affects professional, public life.
Graduates can articulate the complexity of influences that form the American character.
(Updated Sept. 2015)