Voices of Oppression & Strength in Portland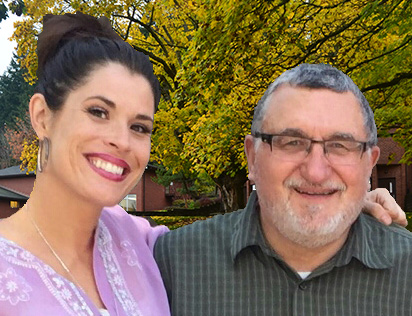 Faculty members: Dr. Bill Dobrenen and Kimberly Anderson
Linked Courses:
Fall—COMM 200-LC6
Spring—EN 200-LC6
When you played "cowboys and Indians," which side were you on? Consider with us the voices of struggle, oppression, and strength in your story and in Portland's story. Give voice to oppression and strength—your own and other voices—and serve our world.
In this First-Year Learning Community, students will…
Learn to value and navigate college life—academically, socially, and spiritually
Discover and give voice to your own stories of oppression and liberation
Spend time considering your personal genealogy and the voices of strength in your own history
Develop a new set of lenses through which to view American history as well as understand their personal histories
Recognize and spend time walking through the Portland urban reservation
Discover the many Native voices resident in Portland and explore the services that help people navigate the challenges of life on the UrbanRez
Learn about issues related to privilege and power in relationship to various populations and think about how to address them
Ask questions about the justice or injustice of structures, agreements, and systems like treaties, river rights, housing, reservations, and the distribution of resources
Learn to think critically about how you choose to live a world of increasing diversity in the future and why. What are the implications of that choice on the communities around you?
Realize the importance of the tradition of and value of listening to elders
---
Meet this FYLC's leaders:
Dr. Bill Dobrenen: I am excited to be a part of the FYLC program because of what FYLC represents.  Community and "safe space" are rare commodities in our society.  FYLC provides both of these to students and faculty alike.  To know each other's stories is vital to good learning and good teaching.  In this program, we get to know one another (and ourselves) in many different settings: academics, service, fun, and serious conversations.  By the end of this year, community will form and you will be glad that you were a part of that!
Prof. Kimberly Anderson: I am excited to be a part of the FYLC program because it is a wonderful opportunity to build community while connecting with students and faculty.
Andy: I'm looking forward to being a Peer Mentor because I want to make sure all of the new students feel welcome and find their place in the community on campus. I also want to provide them with a friendship that will allow us to grow and mature together.
Sharyce: I'm looking forward to being a Peer Mentor because it allows me to build meaningful relationships with others, especially the incoming first year students who come from all different walks and aspects of life. With this, I'm hoping to be able to step into the stories of their lives and play a role in their development of who they are and their growth into becoming college students. I'm excited to help ease their transition from high school to college and to support and encourage them throughout their first year here at Warner Pacific College.