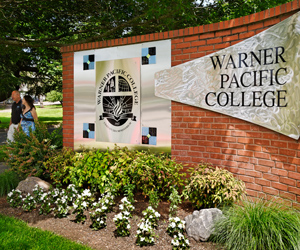 Experience the urban advantage at Warner Pacific
At Warner Pacific, we talk a lot about being "in the city, for the city." What does that mean, exactly? It's a deceptively simple summary of all that Warner Pacific represents—a rigorous liberal arts education in an urban setting, coupled with a service-oriented, faith-based approach to community outreach and personal transformation.
Where we are
"In the city" means just that. Our Mt. Tabor campus is centrally located in SE Portland, an artistic hub, home to diverse eateries, art galleries and charming old neighborhood homes. Portland's thriving downtown and economic districts are a quick ten-minute drive down the road, affording our students ready access to all the opportunities a major metropolitan area has to offer.
"In the city" also means impacting the greater Portland area. Our Adult Degree Program reaches to several locations including east and west Portland, and Vancouver, Washington. Adult learners can experience an affordable and accessible education close to their home or office.
Our ties to the city are not purely geographical, and Warner Pacific is proud to be woven into Portland's cultural fabric. We're serving the needs of the city where we live, and accessing the multitude of opportunities the city provides—this is what we mean by the "urban advantage."
What we do
"For the city" represents our attitude toward the local community and a commitment to investing in our campus, neighborhood and region. Community service and involvement is a core part of our mission and our calling as an institution.