Join us as we celebrate the inaugural Founder's Day.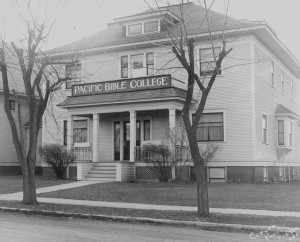 We will be looking back to the day Pacific Bible College opened their doors on October 5, 1937.
Warner Pacific College has come a long way since those early years, and we want to join with alumni, friends, faculty, staff, and current students to reminisce about our history and prepare for our future.
You can participate in Founder's Day from any place on the globe! 
Share your memories!
View our campus timeline and add your favorite photos and WPC memories via social media. Remember to
@ mention us or use #warnerpacific.
Founder's Day Luncheon
If you live close to campus, please join us for lunch on Founders Day – Monday, October 5. 
President Cook will be cutting the birthday cake at 12:30 pm in the dining hall of the Mt. Tabor Campus.
Continue the Legacy
We are asking alumni to donate $1 for each year you've been out of college. 
Friends, faculty, staff, and current students can donate $1 for every year they've been connected to the college.
These donations will go a long way in helping current Knights earn a quality liberal arts education and create similar lifelong memories and friendships.