Christian Universities Online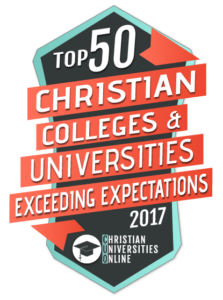 ranked Warner Pacific College as one of the top Christian Colleges exceeding expectations. In fact, the College ranks 2nd!
"We intend to support, develop, and retain our students, preparing them to move forward and be successful in their lives," explains Dr. Andrea Cook, Warner Pacific College President. Our intentionally low student/faculty ratio of 8 to 1, smaller class size, and opportunities for meaningful internships allows Warner Pacific students to receive the individual attention they need to succeed. This leads to more students completing their higher education dream by graduating with the skills and confidence they need to engage actively in a constantly changing world.
Christian Universities Online compiled the top 50 Christian Colleges and Universities that exceeded their expected graduation rates list because  "[o]ne often overlooked factor is how well the school prepares graduates for the next step (be it graduate school or employment). This can be gauged by graduation rates. The difference between anticipated or expected graduation rate and actual rate can be dramatic – and quite telling. There are several reasons why a student doesn't graduate within the expected time frame; these reasons are taken into account in the 'expectation' rate."