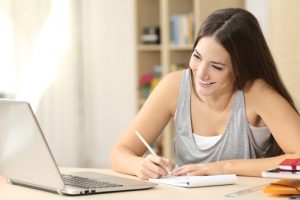 Congratulations, you've been admitted to a college! You have only just begun to work towards your bachelor's degree. The next step is to weigh your acceptances to find the best fit for your targeted educational path. Here are 7 Things to Consider Before Committing to a School:
Environment

– What type of environment will best suit you as you pursue your bachelor's degree? Think not only about the general considerations of geography in your county, state or region, across of the country or within the country (or even an international location), but also if are you looking for an urban or suburban location.
Do you prefer to achieve your bachelor's degree at a special interest school concentrated around religion? One private by gender? With a large Greek life or campus life? With particular athletics or other extra-curricular activities? Are you looking to go to school with friends or classmates from high school or making a giant leap into independence? Do take into consideration the actual campus and classrooms – will you be driving to/from school or living on campus? Is the campus walkable or will you need to a car, bicycle or other transportation to get from one area to another or do they provide cross-campus transportation? What did you like or dislike about your high school so that you can compare similarities and make adjustments?
Weighing these initial options may provide the first level of your checklist as you compare your acceptances to find your best fit where you will thrive.
Facilities

– In addition to having on-campus residence halls or labs related to your program of study, what else does your potential campus have to offer? Are there fitness centers? Computer labs? How does the library compare and what hours does it operate? Are there healthy dining options accessible to fuel your mind and body? (And, how is the food?) These aspects of campus life may greatly contribute to your success.
Cost – Whether you are attending college or university on a Warner Pacific scholarship, with financial aid or will be paid-in-full, the price of tuition is a significant factor for most students. According to College Board,

the average cost of tuition and fees for the 2016–2017 school year was $33,480 at private colleges, $9,650 for state residents at public colleges, and $24,930 for out-of-state residents attending public universities. This does not include room and board, books or other potential charges that will impact the budget.
Perhaps you're planning to live at home and commute, in which case your budget would need to consider gas, tolls, parking passes, etc. Or, if you're living far from home you may need to account for traveling for the holidays and summer break, furnishing your campus housing and even the storage of furnishings while away for the summer.
Academics & Faculty

– If you already know the field of study for your bachelor's degree, how do the schools where you were accepted rank? U.S. News and World Report publishes an annual list searchable by nearly 50 different types of numerical rankings and lists to help you narrow your choice. For instance, if you wanted to review rankings of liberal arts colleges within 50 miles of Dallas, TX,

this

report would give you an opportunity to compare schools meeting the academic profile, and can then further narrow down selections by cost, classroom size, and other related factors.
What is the ratio of faculty to students? What are the credentials of the faculty in your program of study and what do other students have to say about them? You can review student commentary at a site like RateMyProfessors.com.
What is the class structure? Are there tutoring services available as part of your tuition or available with added fees?  Some colleges such as Warner Pacific in Portland, OR offer coursework tutoring as well as academic training including building a foundation of positive study skills.
Transfer Credits

– If you have already started working toward your bachelor's degree at a community college or have earned high school Advanced Placement credits, will the school(s) you're considering accept these? As outlined by Warner Pacific College, it is often "at the discretion of accepting institutions what credits meet institutional equivalents for transfer." This may not be an initial factor, but in a compare and contrast evaluation between colleges, consider the work you may have already posted toward your degree.
Graduation Rate – Researching the school's rankings, faculty credentials and reputation will provide some of the story, but you may also wish to review the school's overall graduation rate as well as any statistics within your targeted bachelor's degree concentration. According to CampusExplorer.com, most schools have a graduation rate of 60 to 80 percent. Is your major along the higher end of this scale at the school(s) where you've been accepted?
Job Placement Rate & Support

– What is the job placement rate at the school(s) you're evaluating? If available, review job placement data published by your school or in national directories. Also, investigate if the school offers job placement services. Many schools will provide up to six months of career counseling and job search assistance as your success will ultimately reflect upon the program's impact in the field of study.
Does the placement support only apply post-graduation, or will your school assist with internship placements that will better prepare you for the post-college working environment? Additionally, you might consider reviewing the esteemed alumni from your targeted school(s) working in said area of interest. These success stories may support your decision-making process or offer the opportunity to further discuss your career objectives with someone who can personally respond to questions or reservations you may have when deciding upon your college path.
In theory, you've considered many of these attributes when you first applied to your targeted colleges, but the seven items outlined may help you make your final decision and thrive in pursuit of your bachelor's degree from a liberal arts college.
It's not always an easy decision, but it's one that with careful evaluation should set you off on a path to success.
DMG