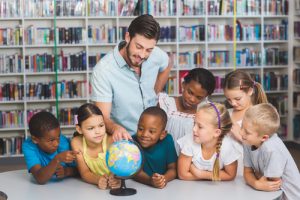 Pursuing a teaching degree will likely be the one decision tied to both the most challenging and the most rewarding moments of your life. There is no cookie-cutter plan for where your teaching degree will lead you, but here are 10 of the top reasons your teaching degree is setting you up for an amazing future:
Job Flexibility. Becoming a teacher opens up an incredible amount of diverse job opportunities. A 2011 poll published by the research company Gallup found that 71% of Americans are disengaged from their workplace. A teacher's ability to teach different subjects, grades, and in different schools keeps the profession fresh. A high school biology teacher may eventually choose to pursue a Ph.D. and teach as a professor; or to take a new approach in a private school such as Waldorf, become a principal, or choose to spend summers as an environmental educator. A high school psychology teacher may be asked to fill in for a guidance counselor for a semester. Just about every school district in America is in desperate need of substitute teachers. A substitute teacher has the ability to cherry-pick jobs in the subjects and at the schools he/she prefers. Subbing is a great opportunity to get your foot in the door at a school and subs who have a teaching license get paid more.
Travel. Going abroad tops the list for a significant number of millennials. Securing a visa to work abroad is difficult and often reserved for engineers, elite business professionals, and yes, teachers. Teaching English abroad is a great way for new teachers to get experience in the classroom, and can be a lucrative job for teachers with a Master's degree or previous teaching experience. Some of the highest-paying jobs teaching abroad (in countries like Saudi Arabia, U.A.E., Qatar, Oman, Kuwait, and Bahrain) require a teaching degree, while other opportunities could be the perfect gap-year for new teachers looking to gain experience before going back to school to get a teaching license or Master's degree in education.
Summer vacation. Though teachers do have plenty of workshops and conferences on the days students have off, it's just about the only profession that still allows plenty of free time to soak up the dog days of summer. A teacher's schedule is especially beneficial to teachers who have school-aged kids of their own. Having the majority of summer vacation off means not having to worry about paying a summer nanny, or not having enough long weekends to spend at the beach. BONUS: Spring Break and Winter Break!
Lifelong learning. Teaching different grades and subjects means always having new material to learn. As a teacher, you're expected to be the expert, so teachers have to consistently study-up on new material and review the stuff that's familiar. Teacher workshops are also built into the work schedule. New skills, techniques, and classroom technology is taught to teachers during these workshops so the way they run their classroom is constantly evolving.
Share your passion. The best teachers are those who are genuinely excited about the topics they teach—their excitement is contagious and will likely translate into meaningful, engaging lessons. Brazilian pianist Joao Carlos Martins sank into a deep depression after losing the use of most of his fingers, until a friend convinced him to teach music to disadvantaged youth. Since, he's cultivated musical talent through his youth orchestras, and most importantly, rediscovered his happiness. Though he cannot play music himself, his interest and talent in the subject has fostered the next generation of musicians that have been given the opportunity to perform in such esteemed venues such as New York City's Carnegie Hall. An extreme example, but you get the idea. Do you find nothing more interesting than the culture of ancient Egypt? Sounds like you may make the perfect 5th grade history teacher.
Meaningful, direct feedback in the workplace. Kids are often recognized as the most honest people around. Though teachers can expect to undergo reviews from their superiors, the most important feedback is what they observe in their own classroom. Seeing a student's grades improve after one-on-one reviews of material let a teacher know they are presenting the information in a way the student understands. On the contrary, unanimous poor performance on a test is an indication firstly, that the material needs to be reviewed, and secondly, that a new approach may need to be taken when teaching the subject.
Teachers create jobs. Teaching is one of the only professions that actually prepares people for jobs long before they can even work. Teachers lay the basic foundation needed by the world's future lawyers, accountants, and graphic designers. Teachers are the people who spark an interest in a topic or realize their aptitude toward a particular subject.
Protect students beyond the classroom. Teachers are often the whistle-blowers for children who are experiencing difficult home lives that may require intervention. Whether that means the student's family needs assistance with food, weather-appropriate clothing, or a student is living in a dangerous home, teachers are often one of the only adults young students interact with regularly outside their family. Teachers have the opportunity to sound the alarm to the people who can intervene when they see something that doesn't seem right.
Pay it forward. Ask any adult and they can likely recall specific teachers and the impact they had on them. Becoming a teacher means you have the opportunity to be that person in someone else's life.
It's hard. According to an article published in the Harvard Business Review, the happiest people are the ones that tackle the most difficult problems. Teaching is not an easy profession. Some students will be easier than others, but you can count on having at least one particularly challenging student in every class. Teachers have to perform a constant balancing act of pleasing parents, students, and superiors. Teaching is also recognized as one of the most rewarding professions on the planet: a constant challenge that comes with unprecedented rewards.
DMG