Earning your college degree means giving yourself a crucial leg-up in today's job world. The college experience extends beyond GPAs, finals, and diplomas, though, and the relationships you form here can be some of the most beneficial of your lifetime. Whether you're attending a Big 10 school in the midwest or a small college in Oregon, cultivating relationships with your professors goes a long way. How?
They're experts in their field. A professor's knowledge and interest in the field expands far beyond the classes they teach. Scan your school's website for faculty bios so you can get a brief idea of what your professor's concentration is in. Keep in mind, this person has dedicated his or her life to a specific area of study. Showing interest in their work is a great way to initiate a connection, especially if that interest is genuine.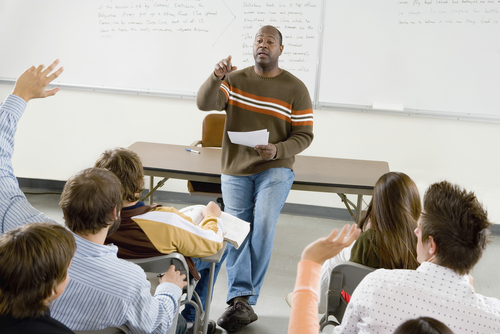 Professors are sometimes allocated funds to hire student researchers. (Hint, this could be you!). Your favorite professor may be willing to advise you on a future thesis project or introduce you to a topic you didn't even know you were interested in. You could find yourself switching majors or adding a double major or minor that could make you stand out to future employers.
They can vouch for you. Especially if your job experience is slim, a professor can be an excellent person to attest to your abilities, work ethic, and dedication if the job you're applying to requires a reference. If you plan to attend a graduate or Ph.D. program, many schools require applicants to provide multiple letters of recommendation from professors. Stay in touch with the professors you really meshed with so they stay familiar with you as well. Professors have thousands of students over their careers so keeping in touch (via email at the very least) will help those letters of recommendation come from a genuine place. Take a look at these tips on how to ask for a letter of recommendation when the time comes.
They can be a mentor. Think about it: you've had mentors your entire life—whether they take the form of a coach or music teacher—and once you enter college and beyond, mentors remain a crucial part of personal growth. Cultivating a relationship with a professor early on in your college experience could give you the opportunity to have a professional to call on for advice in the future. From looking over a cover letter to sharing advice about how to break into the industry, cultivating a mentor-mentee relationship with a professor can help you long after graduation. Asking for advice is a great way to keep in touch so you stay fresh in this person's mind.
They know people. Because they should be familiar with their colleagues, professors can recommend classes you may be interested in or other faculty you should meet with. They also may know people in your field of study that work in a sector you're interested in. It's easier to connect with professionals when an introduction is made through a mutual contact and such introductions can lead to additional mentors or even internships. Don't ask a professor to connect you with his or her network right off the bat—many times these relationships are years in the making and a professor may feel at risk of jeopardizing such relationships by making an introduction before he or she gets to know a student.
Proving yourself as a committed, reliable, and professional individual throughout the semester will make it easier for a professor to extend a helping hand in this way. On the flip side, a professional may reach out to professors in his or her network when looking to fill a job or internship position. Developing a personal rapport with your professors gives you have a better chance of hearing about such postings before other applicants.
You'll want to do well. Psychologically, forming a more personal relationship with your professors will make you want to do well—your performance in the class will feel less about your GPA and more about pleasing this person who has grown to know you on a personal level. It may also be easier to actually perform well, with a personal connection making it easier to reach out for clarification on class material.
Some professors may also notice if your grades start to slip at some point during the semester and reach out to you to see how they can help you get back on track. Forming a personal relationship with your professors may also create more pressure on yourself to not skip class, a bad habit that often leads to extra semesters (and therefore, money) between you and graduation. Though you should never assume grade-bumping is warranted, a professor who has witnessed you reaching out for extra help and putting in genuine effort may be more likely to be lenient when a grade is subject to discussion.
Where do you start?
Getting to know your professors doesn't happen overnight. Especially in large schools that rely heavily on saturated lecture halls, it's important to take initiative. Start the first day of class off right by sitting in the front. Try to participate in discussions or answer a question at least once per class. Make your face familiar by following up with questions you have after class. Office hours are a great way to snag one-on-one time with professors. Even if you don't have any questions about the class material, connect with a professor during office hours to discuss the career path you see yourself embarking upon and get his or her feedback.
However, you approach getting to know your professors, keep in mind that personal connection goes a long way and not all professors are interested in forming a more personal relationship with their students. Some professors expect relationships to remain in the classroom while others are happy to chat over coffee or use office hours to get to know students' interests and career goals. Respect each professor's style and direct your energy towards those willing to form a connection.