Welcome to your home on campus!
We answer all your questions here and provide a list of things to bring, and things not to bring. If you need more information, contact Vanessa Guerrero or see the FAQ below.
---
Resident Hall
What to Bring
Shower caddy
Shower shoes
TV
Rain jacket
Bedding (Twin XL)
Laundry supplies
Garbage can
Mini fridge
Microwave
Toiletries
Towels
Clothes hangers
Cleaning supplies
Fans
What Not to Bring
Candles
Toasters
George Foreman Grill
Lava lamp
Apartments
What to Bring
Mattress & bed frame
Bedding
Dresser
Shower curtain
Microwave
Small kitchen appliances (coffee pot, toaster, blender, etc.)
Pots & Pans
TV
Couch
Shelves
Coffee table
Towels
Garbage can
Cleaning supplies
Dinnerware
Drinking glasses
Silverware
Fans
Lamp
Rain jacket
* If needed, furniture can be rented through the University.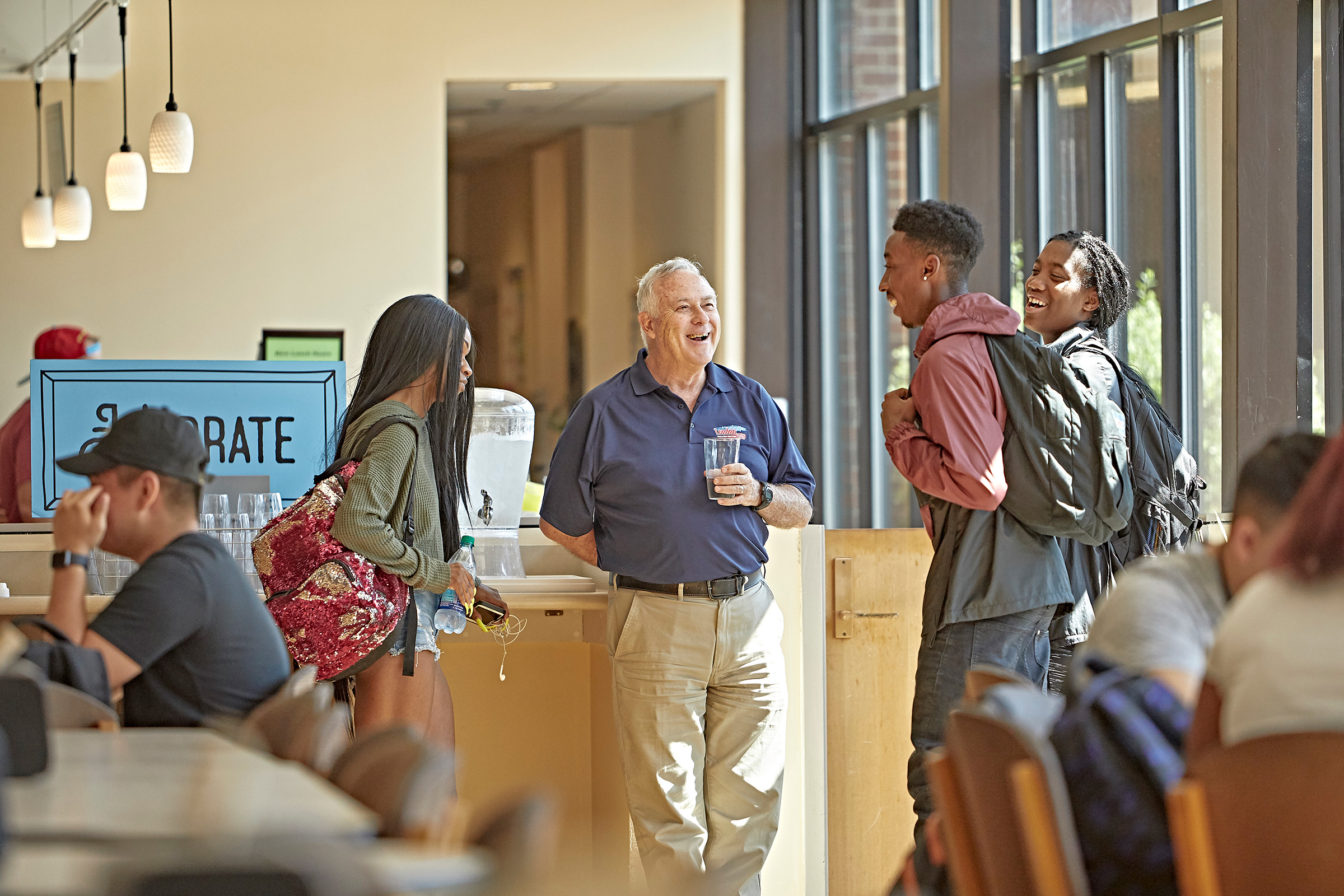 FAQs
When is the dining hall open?
The dining hall is open daily. On weekdays the dining hall opens between 7:30 a.m. – 9:00 am for breakfast; from 11:00 a.m. – 1:30 p.m. for lunch; and 5:00 p.m. – 7:30 p.m. for dinner. On the weekends or days when the campus is closed (such as President's Day Holiday, etc.), the dining hall is open for brunch from 12:00 p.m. – 1:00 p.m., and for dinner from 5:00 p.m. – 6:00 p.m.
What is the price of on-campus dining?
There are three meal plans available for students to purchase. Students who do not have meal plans are always welcome to purchase individual meals as needed. The Platinum meal plan is required for all freshman and sophomore students, and anyone living in the residence halls. The gold and silver plan are for students living in specific apartment complexes or houses. Visit our Dining Services page for more information and the most current pricing.
Are meals included in the housing cost?
The food cost is not included in the cost of specific housing areas, this is a separate charge.
What services does the staff at the Caldwell House provide?
Caldwell House offers career and life counseling as well as testing accommodations for students who have IEPs (Individualized Education Plans) or who struggle due to a learning barrier. The Caldwell House also offers testing services for students who want to engage actively in discovering how to best study and improve their learning skills.
What kind of support does the college provide for students who would like help dealing with emotional stress?
A counseling center is located in Caldwell House and is available to all students who seek career services or life counseling. Our Campus Ministries staff is also available to students seeking support.
Is there a resident assistant in my living area?
There is a resident assistant on each hall, as well as three resident assistants located in various locations throughout the houses and apartments.
Who should I contact if I need help or if there is an emergency?
In an event of an emergency you should always contact 911. If there is no imminent danger, you can contact Campus Safety at 503.250.1730 and the on call staff person at 503.729.4150.
Are there any items or appliances that I cannot bring with me to my living space?
Depending on where you live there are limits on what you can bring with you. Toasters and toaster ovens are not allowed in the residence halls, but there is a toaster in the Tabor Grind (our coffee shop) that students can use. The residence halls can have microwaves and mini-refrigerators for your use, but these items are not provided by the College.
Can I be charged for damages?
Yes. You and your roommates are responsible for any and all damages that occur while you are living in your space. Normal wear and tear is expected and will not be charged, but major damages will become the responsibility of the resident, including labor costs to have the damage fixed. In the residence halls you are not allowed to put more than 10 holes in your wall.
What is the cost of housing on campus?
Housing costs vary by the facility you live in.
Can I stay on campus during school breaks?
If you are a resident in the apartments or houses you can stay on campus during all breaks. The residence halls close down during Christmas Break because the dining hall is not open and the residence halls do not have fully functioning kitchens for students to cook.
Are we allowed to have guests stay over?
Yes. You are allowed three nights of guest visits. A guest is not allowed to stay on campus more than three nights. This rule is for both the residence halls and other living facilities. Guests who are spending the night must be the same gender as the person they are visiting.
Where can I hang out with my friends after visiting hours are over?
There is a lounge located in Warman Hall with a TV, a mini kitchen, and other activities. There are two lounges located in Smith Hall; one contains a TV while the other is typically used for studying. The lounges are open 24 hours a day, 7 days a week. Students can spend time in there as long as they are not sleeping. Men and women can both be in any of these lounges during any hours when the lounge is open.
Are there visiting hours in the residence halls?
Yes. Smith and Warman Halls are subject to visiting hours. Visiting hours exist to maintain the privacy for women in Smith Hall and for men in Warman Hall. During the following times men and women can freely access either residence hall:
Sunday – Thursday: 1 p.m. ­– 10 p.m.
Friday – Saturday: 1 p.m. – 12 a.m.
When is the Library open?
During the school year, the Library is open Monday through Thursday, from 8:00 a.m. – 10:00 p.m., but closed during chapel hours on Tuesday and Thursday (from 10:00 a.m. – 11-00 a.m.). On Friday, the Library closes at 6:00 pm. The Library is also closed during the weekend, except during finals week
Are there any study spaces for me to use?
Both of our residence halls have lounges that can be utilized as study spaces. Additionally the University's Library offers a quiet space for studying. The Library has quiet zones as well as classrooms that can be used when classes are not in session. The Library is also home to the Academic Success Center where students can go for tutoring or to study. In addition to both of these locations, Warner Pacific also has a 24 hour computer lab, located in A.F. Gray hall where students study as well.
Who will I be living with?
If you live on one of our residence halls, you will have a roommate. We do have few single options in both of the halls.
Students residing in the apartments and houses typically have 2-5 roommates depending on size and location. There are single options for students who prefer to live without roommates as well.
As a student, do I have to live on campus?
Warner Pacific University education is not limited to the classroom experience. Living on campus provides opportunities for learning and engagement that are unique to the college environment.
All full-time students (12 credits or more) are required to live on-campus unless they are commuting from parent's/legal guardian's home, are at least 21 years of age by September 1, have established residency within a commutable distance for 12 months or longer, or are married.
What are the living options?
Our campus offers a variety of living options for students. All First Years and Sophomores are required to live in our two residential halls: Smith Hall (for women) and Warman Hall (for men).
Students who are at least 20 years of age or at Junior standing (60 credits) are eligible to live in any of our campus one and two bedroom apartments and houses. Except for married students, only students of the same gender can live in an on-campus apartment together.
Visit our housing page to learn more about accommodations.