Posted on October 3rd, 2018 in News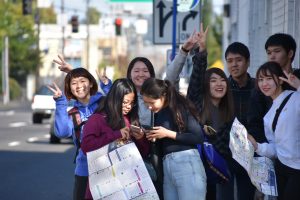 Pacific International Academy (PIA) has found a new home in Portland, following the unexpected decision to close Marylhurst University, where it was located for over 20 years. PIA, a nonprofit English language school for international students, launched its fall term on October 1 at Warner Pacific University, marking an exciting new development for two institutions that have shared values around multiculturalism and service.
Warner Pacific has long been recognized for its commitment to diversity and was recently ranked #1 in "Ethnic Diversity in the West" by U.S. News & World Report.  Warner Pacific is excited to welcome international students from PIA to its campus community. Together, PIA and Warner Pacific will contribute to a multicultural learning environment for students from both institutions.
PIA's students come from all over the world, with the largest groups hailing from Japan, South Korea, and Saudi Arabia. Most of these students come to prepare for university study in the U.S. or take part in a study-abroad experience through their home universities. Students have lofty educational goals but also want to connect with peers from other cultures. "PIA has a strong reputation for its academics and student services," said Erica Fulton, PIA's Academic Director, "but outside of the classroom and homestay, what students really want is friends their age. Warner Pacific offers that. Everyone is welcoming, and there's a vibrant campus for our students to get involved in."
With 66 percent of their students coming from racially and ethnically diverse backgrounds, Warner Pacific graduates embrace the value of learning from other cultures and experiences. The University is looking forward to the new perspective that will come with an increased international student population on campus. "In addition to our shared commitment to celebrating diversity in education, Warner Pacific and PIA are also dedicated to community engagement," said President Andrea P. Cook. "Serving others is woven into the entire fabric of the Warner Pacific experience, so we believe PIA students will feel right at home on our campus."
PIA has a long history of integrating volunteerism into students' educational experiences. Its popular Service Learning course matches students with nonprofit organizations in and around Portland for extended volunteer experiences. Annually, PIA Service Learning students contribute over 6,000 volunteer hours to the local community.  Rahi Ghazimorad, PIA's Administration and Services Director, said, "PIA and Warner Pacific share a commitment to serving their communities, and PIA looks forward to continuing its tradition of community service by complementing the robust efforts already in place at Warner Pacific."
---