Posted on January 10th, 2022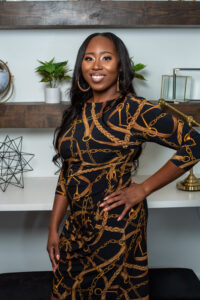 Loren Bass is excited to bring her experience in undergraduate and graduate enrollment, recruitment, and marketing to WPU. Previously working at a variety of institution types- HBCU, regional universities, and private institutions, Ms. Bass enjoys working with diverse populations and making an impact in the lives of others.
Understanding the full student experience, Ms. Bass plans to enhance department collaboration, educate prospective students on the opportunities that WPU can offer them, and build a strong team that advances the University's strategic plan.
"I am excited to utilize my leadership skills in a way to not only impact enrollment numbers, but enhance the relationship with the local community, alumni, and the team I will be managing," notes Ms. Bass. "I value excellent customer service and creativity so working with internal and external constituents to highlight research, prominent alumni, and the student experience will be a primary focus for making WPU a global University."
Ms. Bass is a dynamic enrollment professional whose disposition, experience, and perspective on recruitment align with the direction we are headed strategically to ensure WPU becomes a global University.  She holds a Bachelors of Communications with an emphasis in Speech Communications and a Master's of Higher Education Leadership from Valdosta State University.
Ms. Bass starts Feb 1, 2022.
---