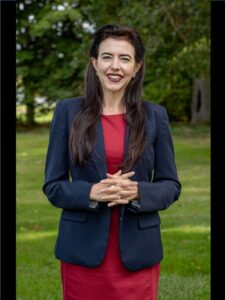 Warner Pacific University (WPU) is pleased to announce the appointment of Jennifer Boehmer as Chief of Staff and Vice President of Strategic Communications.
A communications leader with more than 25 years of experience in higher education, Ms. Boehmer will serve as the President's senior integrator across and among university offices and leaders, providing operational supervision of priority university projects and coordinating high-level goal setting and direction alignment among leadership. In addition, Ms. Boehmer will oversee the University's communications and marketing efforts and work to amplify the mission of WPU within the community and across Oregon.
"I am thrilled that Jennifer has agreed to join WPU and assist us in our mission to serve our students and community at this special time in our history," said WPU President Brian Johnson. "Her skills in strengthening teams to achieve milestone goals, and proven ability to build upon and promote our advantages through strategic communications, will add value to our institution."
Ms. Boehmer says she is eager to begin.
"Now more than ever, the extraordinary mission of Warner Pacific University – putting faith into action through excellent higher education, especially in service to those who have too often been underestimated – is a beacon of hope," said Ms. Boehmer. "I'm captivated by this vision and tremendously blessed to serve in extending that light even further."
Ms. Boehmer comes to WPU from Linn-Benton Community College where she served as Executive Director of Institutional Advancement. In that role, she supported the president as well as oversaw the institution's Foundation Board, college marketing efforts, and government and community relations programs. Her efforts included rebranding the institution, expanding fundraising revenue by 30%, and assistance in securing a public bond measure worth $24 million.
Prior to that, Ms. Boehmer served Oregon's largest higher education institution, Portland Community College, leading strategic communications efforts that included a nationally recognized marketing campaign to promote the school's commitment to diverse student success and to support enrollment. She has also worked with small private higher education institutions and foundations, and within consulting capacities.
Ms. Boehmer is President Emeritus of the National Council for Marketing and Public Relations, an organization representing 1,500 community and technical colleges throughout the U.S. and Canada. She holds a Master's Degree in Strategic Communication from the University of Portland and her thesis on the subject of messaging to first-generation college students has been adopted into the university library. Her Bachelor's Degree in Communications and Public Relations is from Linfield University.
Ms. Boehmer is a frequent national speaker, author and panelist on the subjects of marketing, communications, advancement, strategic planning and presidential / executive communications support for higher education institutions.
---