Posted on May 26th, 2023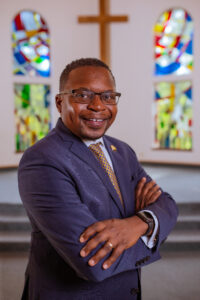 Dear WPU Community,
I love the month of May. Why? Well in addition to the glorious turn to summer in Portland (the most beautiful place I've ever lived), I get to celebrate one of my favorite events of the year: COMMENCEMENT!
On Saturday, May 13th we celebrated the class of 2023's commencement at Sunset Presbyterian Church in Beaverton. It was a blessed day for our university, and we are thankful to God for an outstanding ceremony. There were 130 graduates in total; 45 of which were first-generation college students and ranging in age from 20 to 58 years old. Our graduates received degrees in Business, Education, Natural Sciences & Health, Nursing, Social Work, and Arts & Social & Behavioral Sciences.
We heard from three inspirational student speakers including Chelsea Perez-Veneros, who read the scripture, Brianna Avalos, our Traditional Student Speaker, and Reem Alkattan, our Professional and Graduate Studies Speaker. I was especially touched when Brianna said, "Once I started my educational journey at WPU, my life changed… I can truly say I have been challenged and pushed to my highest potential. I've learned that we are all capable of creating the life we desire with faith and community support." To me, that is the greatest reward.
We strive to change the lives of all our students throughout their journey at WPU. It is amazing to see the transformation, from the time our students walk through the doors of their first classes to the moment they throw their arms around their loved ones, dressed in a cap and gown, at Graduation Day.
We were doubly honored this year by the presence of Pastor Jim Lyon, General Director of the Church of God (Anderson, IN). Jim is also an alum of WPU, and in fact, in addition to attending as a student long ago (sorry Jim!), was awarded with an Honorary Doctorate in recognition for his faithful and compassionate leadership. My favorite quote from Pastor Lyon's speech was this:
"You have to believe that if you place your life in alignment with the Creator who imagined you… if you believe that He brought you into being to do good works for which you have now been marvelously prepared through your investment in this university and education… that you can find fulfillment and you can yourself be full and on the adventure of eternity in this world now—if you make that choice to understand your beginning and to surrender into that plan of God."
Wow—thank you Jim! May we all take this message forward with us to live out the plan God has for our lives, trusting in his purpose and following His Word.
Congratulations to the class of 2023! We are so proud of you!
Many Blessings,

Brian L. Johnson, Ph.D
President
Warner Pacific University
---