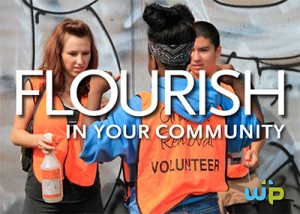 Through hands-on service, real-world learning opportunities, and interest-focused internships, your understanding of the world and your place in it will flourish.
Common Day of Service
Warner Pacific begins the academic year giving back to our community at Common Day of Service.
In September 2015, students and employees donated almost 2,000 combined hours, helping more than 1,500 people and providing an estimated economic impact of nearly $43,100.
Volunteering
During the past academic year, our students gave almost 51,000 hours of service(volunteering) in the city of Portland, volunteer hours worth about $1.1 million to the community
An ethos of service is woven into the entire fabric of the WP experience including classes, athletics, residence life, and more. You'll find a number of co-curricular activities specifically devoted to helping you use your unique talents and gifts to make the world better for others, preparing you for a lifetime of meaningful servant-leadership.