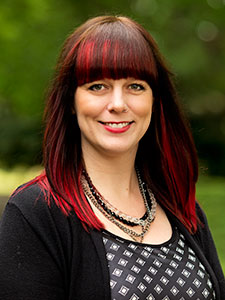 Director of Learning Communities
Email jrthompson@warnerpacific.edu
Phone 503.517.1115
Education:
M.Div., Seattle University School of Theology and Ministry
Post-Master's in Transforming Spirituality, Specialization in Spiritual Direction, Seattle University School of Theology and Ministry
B. A., Religion and Christian Ministry, Psychology minor, Warner Pacific College
Background:
Jessie's extensive years in ministry and education have provided her the opportunity to serve on college campuses and in churches in the roles of Community Architect, Resident Minister, Associate Dean of the Chapel, and as an Associate Pastor. As an educator and a Spiritual Director (and a Maximizer/Developer who leans into her strength of Connectedness), Jessie is energized by watching God's grace show up in unexpected places, siding with the marginalized, and she loves the idea of second-chances and transformation.
Jessie is excited to be a part of the Center for Teaching and Learning in this capacity, as she is both passionate about seeing students engage with the city in the context of community, as well as supporting the academic and co-curricular pursuits of her colleagues as they work with the Learning Communities to embody hospitality and embrace curiosity, providing a network of support for student success.
Professional Affiliations:
Spiritual Directors International, member
MBTI Certified Practitioner