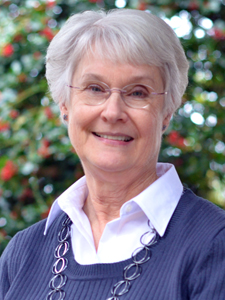 Associate Professor of Human Development and Family Studies; Chair, Department of Social Science
Email pmichael@warnerpacific.edu
Phone 503.517.1324 (503.515.6876)
Education: 
Master of Science in Counseling Psychology, University of Kansas, Lawrence, Kansas
Master of Arts in English Language and Literature, University of Missouri-Kansas City,  Kansas City, Missouri
Bachelor of Arts in English, Southern Nazarene University, Oklahoma City, Oklahoma
Background:
Professor Michael became part of the Warner Pacific faculty in 1993 as an Associate Professor of Human Development.  During her time here, she created a degree in Human Development and Family Studies, which is a certified baccalaureate degree with National Council on Family Relations.  Students graduating with this degree can become certified family life educators.
She has spent most of her adult life teaching, either in academic settings or in community family life education.  In the past twelve years she has directed a program of marriage and family therapy training in the People's Republic of China.  As part of this initiative, she has written and field tested curriculum, and trained students in this area.
Currently, she and her nonprofit ministry organization (TELOS international, Inc.)  have extended their training of counselors to Lima, Peru.  She has also taken training and mental health services to several under-served parts of the world, including Albania, Burundi and Kenya in Africa, Israel, India, and Beirut, Lebanon.
Her "hobbies" are travel, hiking, knitting, reading novels, and trying to keep up with her 2 adult daughters, 2 sons-in-law, and 7 grandchildren.  She and her husband are certified trainers and leaders for Better Marriages and Interpersonal Communications Programs.
Professional Affiliations:
2016 Certified Family Life Educator, National Council on Family Relations (NCFR)
2016 American Counseling Association (ACA)
2016 Association for Couples in Marriage Enrichment
2016 Interpersonal Communication Programs
Research/Publications:
Book in process, Couple Therapy and Marriage Enrichment:  Partners in Fostering Marital Growth
Courses written for Marriage and Family Training Program, People's Republic of China:
Basic Skills for Marriage and Family Counseling
Persons-in-Context
Embodying the Truth:  Integrative Foundations for Christian Counseling
Principles & Techniques of Systemic Counseling
Ethical Practice of Christian Marriage & Family Counseling
Human Growth & Development
Marital Therapy
Family Life Education Methodology
Marriage/Relationship Enrichment Leader Training
Human Sexuality—A Christian Perspective
Christian Sexuality in Marriage and Family Therapy
Addressing Family Violence in China
The Contextually Respectful Counselor
Divorce: A Christian Perspective