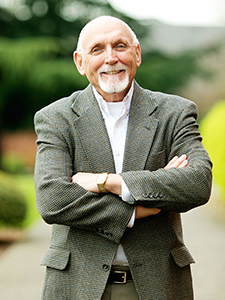 Professor of Business; Chair, Department of Business
Email RMartin@warnerpacific.edu
Phone 503.517.1035
Education:
Ph.D. in Human and Organizational Systems
The Fielding Institute, Santa Barbara, California
M.A. in Human and Organizational Development
The Fielding Institute, Santa Barbara, California
Masters in Business Administration
Washington State University, Vancouver, Washington
Bachelor of Science Degree in Business Administration
Warner Pacific College, Portland, Oregon
Background:
Roger is an Associate Professor in Business Management and Economics. He began teaching at Warner Pacific College in 1997 as an Adjunct Professor, but became a traditional Faculty member in 2006. He is also incoming Faculty Chair. He teaches courses in Business Ethics, Management and Leadership, Economics, Accounting, Business Internships, and is the faculty advisor for Warner Pacific's Student's In Free Enterprise (SIFE) program.
Roger has over 40 years experience in business. Almost 30 of those years had been with the Boeing Company. His responsibilities included operations management, quality management, and quality improvement. He ended his career at Boeing as a Program Administrator responsible for training.
Roger earned his BS in Business Administration at Warner Pacific College, a Master of Business Administration at WSU Vancouver, a Master of Arts in Organizational Development at the Fielding Graduate Institute, and a Doctor of Philosophy in Human and Organizational Systems at the Fielding Graduate Institute.
His research passion involves the exploration of faith, social change, and business. Current expressions of Social Business and Social Entrepreneurship have created an immense amount of research on the role of business as mission. Teaching business at a Christian college allows Roger to research the role and responsibility of business in a world filled with need. By emphasizing the triple bottom line, business can make profit while creating social change.
Professional Affiliations:
2006 to Present Vice Chairman of Nape Foundation.
2005/2007 President and Treasurer of Boeing Portland Employee Community Fund
2007 to present member of the Academy of Management
Research/Publications:
Title: AEROSPACE LAYOFFS: A CASE STUDY ANALYZING THE IMPACT OF INDUSTRY CHANGE AND DOWNSIZING ON THE SELF-CONCEPT OF INDIVIDUAL MANAGERS
Program: HOD / Degree: PHD / Year: 2003
UMI Publication Number:3117872