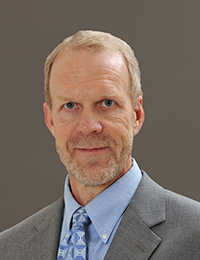 Laustsen, Dr. Gary
Title: Associate Dean & Professor of Nursing
503.517.1225
Education:  
Doctor of Philosophy (PhD), Nursing, University of Colorado Health Sciences Center, School of Nursing, Denver, CO (2005)
Master of Science (MS), Nursing (Family Nurse Practitioner Emphasis) University of Northern Colorado, Department of Nursing, Greeley, CO (1998)
Bachelor of Science in Nursing (BSN), Regis University, Department of Nursing, Denver, CO (1991)
Master of Science (MS), Environmental Sciences/Education, Southern Oregon University, Ashland, OR (1978)
Bachelor of Science (BS), Natural Sciences/Education, Goshen College, Goshen, IN (1976)
Areas of Teaching:
Nursing Skills, Assessment, & Treatment
Pharmacology
Nursing Leadership
Research Passion:
Dr. Laustsen explores best practices in nursing pedagogy and clinical practice. His research also explores the impact of nursing and healthcare practices on the natural environment seeking to promote environmentally friendly healthcare practices.
Academic Accomplishments:
PUBLICATIONS

Valentine-Maher, S., Butterfield, P., & Laustsen, G. (2018). Environmental health: Advancing emancipatory policies for the common good. Advances in Nursing Science, 41(1), 57-69.
Laustsen, G. (2014). Scaphoid fractures: The occult fracture that should not be missed in primary care. JAANP NP Professional Practice Compendium: Musculoskeletal, 2(1), 27-30.
Laustsen, G. (2013). What do nurse practitioners do? Analysis of a skills survey of Oregon nurse practitioners. JAANP, 25(1), 32-41. doi: 10.1111/j.1745-7599.2012.00750.x

Academic Society Membership

Commission on Collegiate Nursing Education: Accreditation site evaluator (2008-present) and Report Review Committee member (2018-present)
National Organization of Nurse Practitioner Faculties: Board member 2011-2015

Honors & Awards

Fellow in the American Academy of Nurses (2013),
OHSU School of Nursing Outstanding Graduate Teacher award (2013)
Luminary Award, American Association of Nurses Luminary Project (2006)
Professional Affiliations:
Professional Society Membership

American Academy of Nursing
American Association of Nurse Practitioners
Sigma Theta Tau International Nursing Honor Society

Professional Recognition

Fellow in the American Academy of Nurse Practitioners (2013)
Nurse Practitioner Oregon State Award for Excellence (2011)

Board Service

Bridges Collaborative Care Clinic, Board of Directors
Rural Nurse Organization: Board of Directors (2014-2017)
International Journal of Nurse Practitioner Educators: founding Editorial Board member (2012-2014)
Background:
Dr. Laustsen joined the Warner Pacific faculty in 2018 and strives towards the goal of being an expert teacher and clinician; incorporating the missions of teaching, practice, and scholarship. He believes in the power of "stories" from 18 years of critical care nursing and 20 years of advanced practice nursing to inform and inspire students. Dr. Laustsen has done medical mission work in Mexico and in US clinics for the uninsured. He serves on many national nursing organizations and with the national nursing accreditation organization. Before becoming a nurse, Dr. Laustsen was a high school teacher and Environmental Scientist/Educator. He lives with his wife Henrietta on a small organic farm raising horses, goats, and chickens and growing a large fruit and vegetable garden each year.
Favorite Quote:
"Love is all you need" – John Lennon & Paul McCartney, Yellow Submarine lyrics (1967)