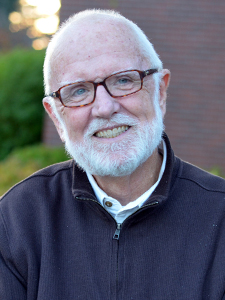 Senior Adjunct Faculty, Humanities and RCM
Email AKelly@warnerpacific.edu
Education:
M. A. T. English—Lewis and Clark College, 1977
Graduate studies in English and education at California State University at Fullerton; California State College at Chico; Portland State University
Graduate studies in Bible at the School of Theology, Anderson University
B.A. in English—Warner Pacific College, 1965
Doctor of Humane Letters, honoris causa, 1994, Anderson University
Background:
Before coming to Warner Pacific, Arthur was a high school English teacher (1966-1971) in Red Bluff, CA. Joining the WPC faculty in 1972 as an instructor in English and Language Arts secondary certification, he continued in a variety of roles until 1995 when he retired. During the 23 years on the faculty, Arthur also served as Department Chair in Humanities and Program Director in General Studies; he served as Vice President for Student Life and Dean of Students (1982-1989); as Assistant to the President for Administration and as Provost of the College (1989-1995).
During the years from 1995-2010, Arthur served the national work of the Church of God, Anderson, Ind., as editor, managing editor, publisher, product development, Christian educator, curriculum specialist, and pastoral coach. He served as adjunct faculty in liberal studies and English, at Anderson University, and is an ordained minister in the Church of God. He was also involved in leadership with the Leadership Commission of the National Council of Churches of Christ, USA, and worked as a curriculum editor and writer for the Faith Practices Project of the United Church of Christ.
He returned as a member of the adjunct faculty in 2010 and teaches English, humanities, and religion in both the traditional and adult degree programs.