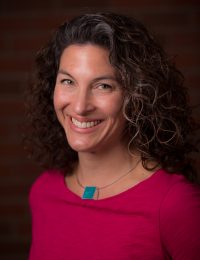 Gordon, Robin
Title: Associate Professor of Speech and Drama; Faculty Chair
503.517.1077
Education:  
Master of Fine Arts, Acting and New Works Creation; The Ohio State University
Bachelor of Arts, Theatre and Dance; Reed College
Certified Associate Teacher, Fitzmaurice Voicework® Institute
Areas of Teaching:
Acting, Voice, Speech, and Movement
Devised Theatre and Directing
Theatre for Social Justice and The City and the Arts
Dramatic Literature and Theatre Appreciation
Research Passions:
Embodied learning; the role of witness in building resilience, character, and community; developing the trauma-informed learning community.
Academic Accomplishments:
Presentation: "Where the Table Meets the Floor: Early Integration of Fitzmaurice Voicework® in the Rehearsal Process, " Fitzmaurice Voicework International Teachers Symposium, NYC, 2017
Presentation: "Pangea: Storying Destructuring, Restructuring, and the Focus Line for an International Assembly," International Fitzmaurice Voicework® Freedom and Focus Conference, Dublin, Ireland, 2016
Presentation: "Fitzmaurice Voicework®: An Invitation to Play," VASTA Conference, Chicago, 2016
Kendall Faculty Achievement Award for Excellence in Scholarship
Professional Affiliations:
Member, Actors Equity Association
Member, Screen Actors Guild – American Federation of Radio and Television Artists
Member and Practitioner in Training, Somatic Experiencing Trauma Institute®
Background:
Prior to joining the Warner Pacific faculty, Professor Gordon taught at Kenyon College and Bowling Green State University. She was also on the artistic team of Contemporary American Theatre Company in Columbus, Ohio, and appeared in numerous commercials and industrials. She encourages all students to pursue theatre as a way of finding voice, shaping culture, and building community.
Favorite Quotes:
An honest witness tells the truth, but a false witness tells lies. (Prov. 12:17; NIV)
"I try to be as honest about what I see and to speak rather than be silent, especially if it means I can save lives, or serve humanity." – Sandra Cisneros
"The truth does not change according to our ability to stomach it." – Flannery O' Connor