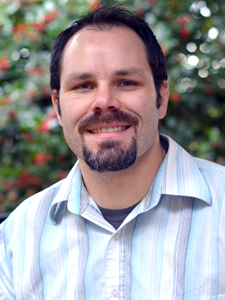 Associate Professor of History, Chair of Department of Humanities
Email LGoble@warnerpacific.edu
Phone 503.517.1074
Education:
Ph.D. in American Studies, State University of New York at Buffalo, 2007
B.A. in English and American Literature and Language, Harvard University, 1999
Background:
Luke has spent time in Central Asia and various countries of Latin America, which has inspired his research on the relationship between indigenous peoples and nation-states.  Driven by a love for new and challenging ideas, Luke teaches classes in History and the Humanities Core.  He came to Warner in 2007, joined by his wife Jillana and two daughters, Sophia and Eleni.  When he is not in the classroom or his office, he might be found mixing it up on the basketball court or crooning behind his guitar.
Professional Affiliations:
Modern Language Association
American Historical Association
American Studies Association
Research/Publications:
Dissertation Title:  "Indians and the National Unconscious: Nationalism and Democracy in the United States and Bolivia, 1780-1850."