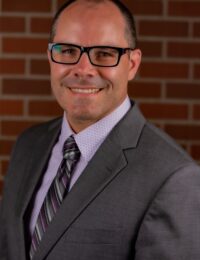 Vice President for Academic Affairs and Dean of the Faculty, Associate Professor of History
Faculty | Staff
Office of: Academic Affairs
Phone: 503-517-1074
Education:  
Ph.D., American Studies; SUNY at Buffalo
A.B. (Artium Baccalaureus, or Bachelor of Arts), English Literature; Harvard University
Areas of Teaching:
History of Race and Ethnicity
Theology and Politics
Latin American and Latino/a Studies
Research Passion:
Dr. Goble is passionate about showing how past structures like racial discourse, urban and national policy, and social movements have shaped the present, often in ways that go unseen, in order for us to be able to create a more just world in the present.
Academic Accomplishments:
Author of Worshiping Politics: Problems and Practices for a Public Faith. Cascade Books, 2017.
Has given multiple presentations and papers on Christian Teaching and Learning.
Professional Affiliations:
Member of the American Historical Association, American Studies Association
Selected for Council of Independent Colleges Senior Leadership Academy
Background:
Dr. Goble was selected as the Vice President for Academic Affairs and Dean of Faculty in February 2021 after serving in an interim role for nine months. He originally joined the Warner Pacific faculty in 2007 as a professor of history and humanities. In addition to teaching classes on race, religion, politics, and world history, he served in multiple leadership roles, including Director of First Year Experience, launching First Year Learning Communities, leading a Program Prioritization Process, and as Department and Division Chair. He served as Chief Innovation Officer beginning in 2018, helping to launch new programs in technology-related areas. In addition to academic and community work on housing displacement, immigration, and racial justice, he and his wife are foster and adoptive parents actively working toward better outcomes for vulnerable children. When not teaching or spending time with family, Dr. Goble enjoys playing sports, reading, writing, and playing music. He wants to continue to help Warner Pacific actively work toward equity in higher education and create spaces where both deep faith and deep questioning are welcome.
Favorite Quote:
"Be the change you wish to see in the world." Mohandas Gandhi.