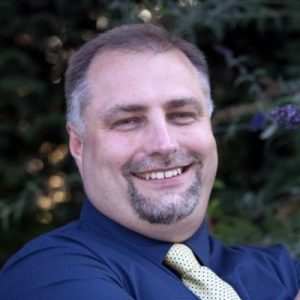 Teaching Faculty – Social Science Department
EMAIL mfisher@warnerpacific.edu
PHONE 503.517.1059
Education:
• M.A. in Theology, George Fox University, 2015
• B.S. in Human Development, Warner Pacific College, 2000

Background:
Mickey's passion is determining mutual collaboration between psychology and Christian theology for the sake of discovering the person. This pursuit also allows and encourages conversations with other faiths. His scholarship has guided him to critically pursue all the works of Paul Tournier. This study is substantially dominant as Mickey expresses an authentic articulation of education.
Currently, in his studies, Mickey researches neurobiology as it pertains to the phenomena of faith and belief systems within the interpersonal contexts. This leads to many different encounters of religious and psychological splendor pertaining to the complexity revealed in the oddity of human interactions with the divine.
When not on campus, Mickey enjoys spending time with his lovely wife, Julia and his two boys, Josiah and Soren. His family life is filled with adventures of child-rearing and rushing off to the next event.
Research/Publications:
The Unknown Jesus: A Phenomenological Approach to Acts 17:16-34
(Under Review)