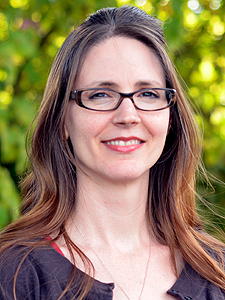 Academic Advisor (ADP)
Email menos@warnerpacific.edu
Phone 503.517.1319
Education:
MA in Theological Studies, Christian History and Thought; George Fox University
Additional graduate coursework in Organizational Communications and Life Coaching completed through Marylhurst University and Western Seminary, respectively.
Background:
Megan began working at WPC in 1997 and, being inspired by the fantastic faculty, decided to join the ranks after completing her M.A.  She began teaching in the religion department as well as in the Adult Degree Program (ADP), where she discovered the joy of working alongside adults seeking to reach their educational, professional, and personal goals.  In 2004, she became the ADP's first academic advisor, and as staff and enrollment grew, she became the director of the advising department.  Megan has a passion for adult education and is awed everyday by the amazing students in the program.
"As an instructor at WPC, I have had the immense privilege of partnering in the transformation of lives – the students and my own.  When I taught in the traditional program, one of my greatest joys was taking the church history students on field trips to experience other aspects of ancient and contemporary Christianity that live on in our city.  As an advisor and instructor in the ADP, I am honored to participate in the educational aspect of the significant life changes our students experience as they overcome obstacles and achieve what they never before dreamed possible.  There is nothing better!"
Megan lives in Portland with her husband, Mark, also an educator, and their son, David.  Outside of WP and family, she is the vocalist for Mosaique, a local jazz band.
Professional Affiliations:
CAAHE (Consortium for the Advancement of Adult Higher Education)