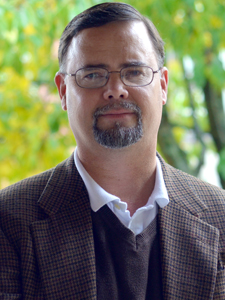 Professor of Biblical Studies, Milo Chapman Chair of Biblical Studies
Email SCarver@warnerpacific.edu
Phone 503.517.1040
Education:
Bachelor of Science Degree in Secondary Education, with endorsements in English and Sociology from Chadron State College in Chadron, Nebraska (May 1989)
Master of Divinity Degree from North American Baptist seminary in Sioux Falls, South Dakota (May 1992)
Master's Thesis: "Paul and Judaic Soteriology" (1992)
Doctor of Philosophy Degree (emphasis in Scripture) from Luther Seminary in St. Paul,  Minnesota (May 1996)
Doctoral Dissertation: "Finding a New Voice for Matthew 19:16-30" (1996)
Current Projects:
Currently, I am working on three main projects. First, I am in the final stages of writing a biblical Hebrew grammar titled Biblical Hebrew Grammar in Context. In this grammar, I demonstrate all of the main grammatical concepts via passages drawn from the Hebrew Bible, so that students can observe what these forms look like in context. Second, I am helping to create an online introduction to the Bible course. Third, I am in the early stages of research and writing on a textbook in the area of peace studies. During the next year, I will be gathering information for this book, and I will begin writing it.
Research/Publications:
In the spring of 2001, I had a chapter titled "Life in Word and World" published in First Steps to Ministry edited by Dr. David Markle for Warner Press. My chapter focuses on presenting basic exegetical techniques and on demonstrating how the interpreter can apply the fruits of exegesis.
At the 2003 Pacific Northwest Regional Meeting of the Society of Biblical Literature meeting in Moscow, Idaho, I presented a paper titled "When Did a Waw Consecutive Imperfect Become a Future Passive Verb? A Critique of the Major Translations of Vayyiqra' in Isaiah 9:5."
My book titled The UnGospel: the Life and Teachings of the Historical Jesus was published in 2004 by Wipf and Stock, a publisher in Eugene, Oregon. In this work, I demonstrate the need for a reexamination of the life and teachings of the historical Jesus, and then I present and use criteria for selecting primary traditions, which I organize into a new synthesis. The second edition was published by Wipf and Stock in Spring 2010.
At the 2006 12th Annual Western Jewish Studies Association conference meeting at California State University (Long Beach), I presented a paper on Isaiah 7-9 titled "The King Who Is God or the King Who Praises God?"
At the 2007 International Meeting of the Society of Biblical Literature in Vienna, Austria, I presented a paper titled "Messianic Trajectories and the Purified Remnant in the Book of Isaiah." In this paper, I traced texts often mislabeled as messianic through the three major sections of Isaiah, demonstrating in the process the implications of these prophecies for understanding the purified remnant concept in Isaiah.
In November 2009, my book titled An Introduction to the Literature of the Bible was published. In this textbook, I present basic issues of authorship, literary forms, and content for the Bible. The book has been accepted as the textbook for the course "Bible as Literature" in the degree completion program at Warner Pacific College.
At the 2011 Pacific Northwest Regional Meeting of the Society of Biblical Literature Meeting in Spokane, Washington, I presented a paper titled "The Confluence of Wisdom, Law, and Prophecy: An Examination of Behavior Modification in Ancient Israel." In this paper, I demonstrated how these three types of literature were connected to each other within the context of the society of ancient Israel, and how they were utilized collectively to promote ethical behavior.
In January 2012, I gave a lecture titled "Does God Care about Human Suffering?" to an adult education speaker series at Congregation Shaarie Torah. In this lecture, I commented on the tension between theodicy and anti-theodicy in the Jewish community, identified historical Jewish approaches to the issue of human suffering, and explored several key biblical texts that are related to this complex and difficult topic.