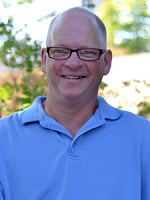 Ballard, Dr. Kelly
Title: Associate Professor of Music
503.517.1693
Education:  
Doctor of Ministry, Leadership and Spiritual Formation; George Fox University
Master of Religion; Warner Pacific University
Bachelor of Arts in Music Theory/Composition; Warner Pacific University
Areas of Teaching:
Choral Studies
Music Ministry
Research Passion:
Dr. Ballard specializes in the discovery, development, and engagement of the 'indigenous voice' of gathered people groups. With a broad musical background in churches, on stages, and through media, Dr. Ballard uses music as a cultural unifier rather than a divider.
Academic Accomplishments:
2014 Stephen Kendall Award for Excellence in Teaching
Licensed and Commissioned Pastor in the Evangelical Covenant Church
Professional Affiliations:
American Choral Directors Association
National Collegiate Chorale Association
Background:
Dr. Ballard has led musical events in 49 states, most Canadian provinces, Asia, Mexico, and Africa. His work in the studio has resulted in "The Psalms—A Contemporary Inspirational Overture" (with Jack Ballard, Ph.D.) and the self-published "The Indigenous Worship Voice—A Theological Paradigm for Unified Worship."  Dr. Ballard is actively passionate about mountain climbing, running, water skiing, reading, writing, and all things family.
To learn more about Dr. Ballard's work visit: beyondworship.com
Favorite Quote:
"Give as much of yourself as you can to as much of the God that you know."—Ron Lagerstrom