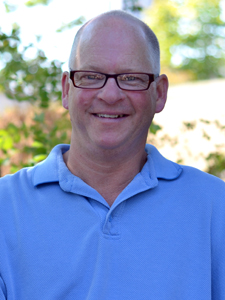 Associate Professor of Music
Email KBallard@warnerpacific.edu
Phone 503.517.1693
Education
D.Min. Leadership and Spiritual Formation: George Fox University, 2002
M.Rel. Religion: Warner Pacific College, 1992
B.A. Music Theory/Composition: Warner Pacific College, 1990
Background
Kelly is responsible for the direction and development of the Choral Studies program of the College, including the direction of the Concert Choir, Warner Chorale, and Vocal Jazz. He oversees the development and training of artist-learner-leaders by teaching several Worship Arts courses.
Kelly is also the Executive Director of BeyondWorship, a consultancy which encourages and equips church leaders. He is married to Frayne and is the father of three young men.
About Dr. Ballard
WPC classes taught: Concert Choir, Warner Chorale, Vocal Jazz, Introduction to Conducting, Conducting Skills, Introduction to Worship Arts Leadership, Resources for Worship Arts Leadership, History, Theology, and Philosophy of Worship, Planning and Leading Worship, Class Guitar, Introduction to Music Literature, Pedagogy With Internship, Chapel Internship, Internship in Worship Arts Leadership, and Global Worship Through the Arts.
What excites you most about the WPC community? Faculty, administration, and staff all indeed care about students and their holistic development.  'Success stories' abound.
Describe the current trajectory of your scholarly research and/or performance/rehearsal schedule. I am continuing to study the nexus of the physical and the spiritual in music performance, exploring the intangible through the tactile experiences of choral conducting, worship leading, coaching and consulting for worship arts, and guest performing with various artists.
What kind of hobbies or special activities do you enjoy? Basketball, mountaineering, water skiing, creative writing, travel, family events, deep and thoughtful cinema, books, music, and poetry.
What were your childhood goals/aspirations? Music performance.
What are listening to in your car right now? Earth Wind and Fire, Vivaldi, Bobby McFerrin, Bela Fleck and the Flecktones, Cantus, David Wilcox, Brahms, JT, John Mayer, and Enric Sifa.
What was/is your favorite childhood story? Peter and the Wolf.