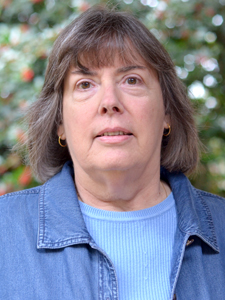 Faculty Emerita of Social Work; Department of Social Science

EMAIL SAhlquist@warnerpacific.edu
PHONE 503.517.1041
Education:
Doctoral Student 1999-2005 in Social Work and Social Research Program, Portland State University
L.C.S.W. in State of Oregon since 1986
M.S.W. in Social Work – Portland State University
B.A. in Sociology – University of Missouri
Background:
Before coming to Warner Pacific, Sandy was a therapist in community mental health for over 20 years. In addition, she is a Certified Family Life Educator with the National Council on Family Relations. She has taught at Warner Pacific for the past 15 years and was responsible for the creation of the Social Work major which continues to grow and evolve. This service in social work and family life education has informed her 15 years of teaching at Warner Pacific. It enables her, in collaboration with students, to develop meaningful internship experiences. Issues of human rights, oppression and social justice continue to influence her teaching and community service activities. Other interests include travel, hiking, gardening and bird watching. Through an organization called Telos, Sandy had the opportunity to teach the course, Counseling Theory and Techniques, in Albania.
Professional Affiliations:
North American Association of Christians in Social Work (NACSW)
Certified Family Life Education, National Council on Family Relations (NCFR)
National Association of Social Workers (NASW)
Research/Publications:
2001 "Domestic Violence and American Indian Men." Presentation by Ahlquist, S. and Graham, T. for PhD. Seminar, Portland State University Graduate School of Social Work, May 15, 2001.2001 "A Study of Insurance Discrimination in Oregon." Presentation by Reilly, R., Reilly, L. and Ahlquist, S. at the Building on Family Strengths 2001 Conference, Portland, Oregon, May 11, 2001.