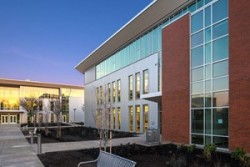 Just down the street from our Mt. Tabor campus, Warner Pacific has been able to witness the amazing transformation of the Portland Community College Southeast Campus on the corner of 82nd and Division.
Portland Community College invested millions upon millions of dollars in educating Portlanders and we are thrilled with the new development in our neighborhood.
At Warner Pacific, PCC students will find a campus community that welcomes them as one of our own. In fact, 40% of our undergraduates are transfer students, so we must be doing something right! We ensure success by matching every transfer student with a faculty advisor. Together, they will customize an academic schedule that fits the student's goals and meets their academic needs.
Warner Pacific accepts the completed Associate of Arts Transfer Degree from Oregon community colleges as the fulfillment of the Core Studies requirements.