Warner Pacific's Student Government is the representative board acting on all matters pertaining to student rights and responsibilities. Student government is just one part of the Associated Students of Warner Pacific (ASWPC).
L-O-QuM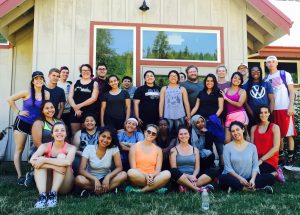 Student Government has started a new monthly initiative called L-O-QuM  (pronounced L-O-Quee-Um. It is the phonetic of Eloquium, which is latin for "To speak out with great passion and/or persuasion")
Bring your Lunch
Share your Oppinion
Ask your Questions
Start a Movement
This is a time for the student body to come share their experience at the College; to help student government advocate for the needs of and to be a voice for the student body.
Oversees
Student Senate (meets every other Thursday from 6 – 7 pm in Egtvedt 203)
Student Clubs: Enactus, Knight Times, Science Club
The Student Government office is located in the Student Union Building (SUB). All officers hold office hours and can be reached by phone at 503.517.1193.
About
We believe that being the voice of the student body is a great responsibility.
Communication is key to building a community that values each of its diverse members. For that reason, we work intentionally to ensure that all voices are heard. We encourage you to take ownership of your experience here and get involved in something on campus that you are passionate about. We love Warner Pacific College and hope that you do too. We will work to foster an esteemed sense of pride and school spirit for Warner Pacific College. It is important to us that Warner Pacific students are inclusive, sensitive to the needs of others, and aware of what is going on in our city, our country, and our world.

Membership in Student Government is comprised of six officers that are elected or appointed for one-year terms. They operate under the guidance of the Student Government By-laws. (Apply to be part of the ASWPC.)
ASWPC
The ASWPC consists of Student Government, Student Diversity Council, College Activities Board, Resident Assistants, Campus Ministries, and Service Learning.
Who we are
Officers:
President: Sameya Amme
Commuter Representative: Cindy Morales Valenzuela
Communication Manager: Lesley Alvarez-Luna
Student Diversity Council:
Student Diversity Council Representative: Daisy Ulloa
SMC Manager: Veronica Geromino
SDC Marketing: Natasha Torres
Research & Budget Manager: Claudia Cedeno-Fornos
College Activities Board:
Chair: Maria Garcia
Director of Daily Operations: Eldy Davila
Marketing & Advertising Coordinator: Raymond Ontiveros
Warner Pac Representative: TBA
Intramural Representative: Michael Ely
Service Learning:
Local Connect Program Manager: Erendira Villagomez
Campus Ministries:
Student Chaplin & Lead Spiritual Life Coordinator: Nicholle Ortiz
Spiritual Life Coordinators: April Vidal, Joshua Lawrence, Keilah Hernandez, Sarah Kudrna, Sierra Gonzalez
Residence Life:
Head RA: Nathan Christ
RAs: Adaya Perez, Beth Kosmowski, Cheyanne Briggs, Forest Nameniuk, Harry Pilkington, Julianna Edwardson, Kailey Herren, Kenny Helmes, Vanessa Guerrero