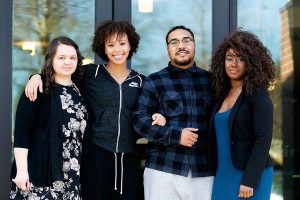 The Warner Pacific College Student Diversity Council is one of three branches of ASWPC student leadership at Warner Pacific. The SDC is committed to promoting justice and equity on and off campus.
This Council is open to the entire student body and has four paid student leadership positions, which we highly encourage any student to apply for.
The SDC oversees all Student Multicultural Organizations, the use of the Student Multicultural Center, and much of the multicultural student programming on campus.
Below is a list of the current active Student Multicultural Organizations that sit under the Student Diversity Council.  All Student Multicultural Organizations at Warner Pacific College are student initiated and student run:
MEChA
Black Student Organization
Mantra (focused on seeking gender-related equity)
African Culture Organization
Bridge Builders (creating shared space for conversations pertaining to faith and sexuality)
Eco-Justice
We would love for you to join us for our Justice Colloquiums, social justice initiatives, history/heritage month explorations, and more.