Schedule for First-Year Students
This schedule is subject to change, but please be aware that New Student Registration is an all-day event.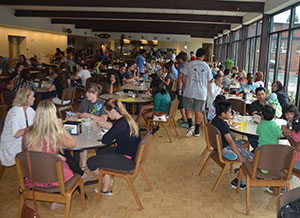 You will receive a detailed schedule when you arrive.
Early check-in for students taking a placement exam
9:00 – 9:30 am: check-in and light continental breakfast
9:30 – 10:00 am: official welcome and meet student host
10:00 am – 3:30 pm: events for students and guests include:
• register for classes
• hear from student financial services
• hear from community life
• hear about and experience academic life
• lunch for students and guests
• hear from health and counseling
• hear from current students and parents
• get your student ID card
• learn about book buying
3:30 – 4:00 pm: reconnect and closing
4:00 – 5:00 pm: final Events (optional time): campus and residence hall tours, shop at the college store, individual appointments with student financial services, etc.
If you have questions, contact the Office of Admissions at 503.517.1020.