When Jessie Osuna-Mondragón left home to attend Warner Pacific, she was nervous about leaving her family and figuring out what do to with her life.
An internship with Multnomah County doing community outreach opened Jessie's eyes to ways she could use her passion to help others, her Latina heritage, and her liberal arts education to make Portland a better place for families in need.
"Not only did this internship improve my professional skills, it also helped me realize my true potential as a scholar and leader in the community. Likewise, being a Latina, it gave me an opportunity to community with Spanish speaking families; helping them access vital resources that they needed to flourish"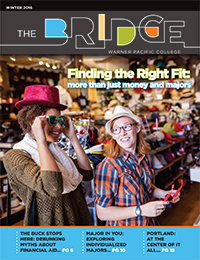 After graduating from Warner Pacific this spring, Jessie continued working with Multnomah County (as an Outreach Specialist) and focuses on community issues surrounding poverty and policy making.
---
Warner Pacific Undergraduate
At Warner Pacific, you will receive an outstanding education, build lifelong friendships, and find the support you need to succeed in college…and in life.
Top ranking Undergraduate Programs
Ranked in Top 10 Regional Colleges (West) by the U.S. News & World Report Best Colleges, Warner Pacific is a Christian College exceeding expectations not just in Portland but nationally as well.
Traditional Undergraduate Programs and Studies with Pacific Northwest Beauty.