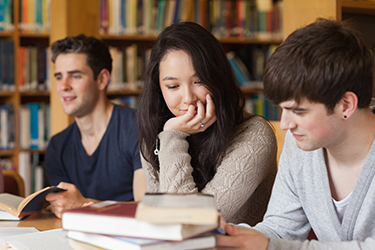 What is Freedom to Flourish?
It is Warner Pacific's loan repayment assistance program offered to all incoming first-time freshmen (traditional undergraduate) beginning in the fall of 2014 through fall 2016 for students who made a tuition deposit by May 1, 2016 (for Fall 2016 enrollment).
What is a loan repayment assistance program?
Our loan repayment assistance program, Freedom to Flourish, is a "safety-net" to help ease the increasingly necessary burden of educational loans. Freedom to Flourish empowers students to enroll and graduate from their first-choice educational institution. It also enables graduates to secure a well-paying job after graduation or ensures your ability to repay your loan while following your dream. Warner Pacific is committed to enhancing affordability and access to a quality, Christ-centered education.
How do I enroll?
All incoming first-time traditional undergraduate freshman enrolling at Warner Pacific for the Fall 2014 semester are automatically enrolled.
What does it cost me to be enrolled?
It is provided at no cost to you.
How do I qualify for assistance?
Attend and graduate from Warner Pacific
Be employed:

at least 30 hours per week
in the United States.
not self-employed or working for the family

Income below the program's upper threshold of $37,000
What types of financial aid will Freedom to Flourish help me with?
Our Freedom to Flourish loan repayment assistance program covers federal students loans, private alternative loans, and parent PLUS loans. Assistance is provided quarterly.
How does Warner Pacific determine my level of repayment assistance?
Our repayment assistance is determined by income, relative to the lower and upper-income thresholds of $20,000 and $37,000.
If a graduate's income is below the lower threshold ($20,000), he/she will qualify for full (100%) reimbursement of loan payments each quarter.
If a graduate's income is between the lower and upper income thresholds, he/she will qualify for proportional assistance (e.g. if you earn $29,000, which is between the upper and lower income thresholds, you would qualify for 50% Loan Repayment Assistance).
Assistance continues until the graduate's income rises to a level of financial sufficiency (above the upper income threshold), or until their loans are completely paid off.
Will the Freedom to Flourish program pay my loans directly?
No. It is a "reimbursement" program, meaning that after you make quarterly payments on your loans, the loan repayment assistance program will reimburse you within the guidelines of the Agreement.
What do I have to do to keep the award while I am enrolled at Warner Pacific?
Simply stay in academic good standing and graduate from Warner Pacific with a B.A. or B.S. degree within six years of receiving the award. Upon graduation, you may request assistance based on the Terms & Conditions provided.
Is there a penalty for early pay-off?
Freedom to Flourish will cover only the amount for the quarterly payment for the length of the loan. Any payment above and beyond the quarterly amount will not be matched or reimbursed. While the loan repayment assistance program does not reimburse extra payments or early pay off of the loan, we would highly recommend intentional financial planning.
What if I don't borrow loans during one or more semesters? Is the Freedom to Flourish Agreement still in place?
Yes. We encourage financial planning and the fewer the loans you take, the better for all.
What if I default on my loan?
The cost of late fees or penalties are not included in the reimbursement. Those will be your responsibility.
Does Freedom to Flourish cover funds borrowed against a mortgage or a personal loan?
No. Only Federal student loans, private alternative student loans, and PLUS loans for parents are covered.
Will the PLUS loan repayment be based off my income after graduation or my parent's?
The repayment benefit is based on the graduate's annual salary.
What if I married and therein double my annual income, do I lose my benefit?
Not necessarily. However, once married, the Freedom to Flourish benefit will consider the Warner Pacific graduate's income or half the household income; whichever is greater.
If I select to be a stay-at-home parent and therein lose my annual income, do I lose my benefit?
Not necessarily. If you are at home with children and your spouse is employed and a college graduate (B.A. or B.S.), then you qualify for assistance based on your total household income.
Can I be self-employed after graduation and still receive the reimbursement?
No. You will not be eligible to receive Benefit Payments if you are self-employed or if you are employed by your family or a family member. Please reference the Terms & Conditions for further detail.
Will Freedom to Flourish repay my loans if I choose a career in overseas missions or service?
We understand that many of our students look forward to pursuing international service work and we want to ensure that those dreams do not preclude them from receiving loan repayment assistance. To help these types of graduates, we allow them the ability to pause their eligibility under our program so they may pursue up to 3 years of international work.
After graduation, what is my next step?
Freedom to Flourish is administered by The LRAP Association. During your senior year, you will receive a graduation packet via email. It will contain instructions on how to request assistance after graduation. If you have questions, please contact The LRAP Association at: 877.577.5727.
Who do I contact for more information?
You may email the Warner Pacific Student Financial Services department at financialaid@warnerpacific.edu or call 503.517.1091.
Please see a complete explanation of the Terms & Conditions.