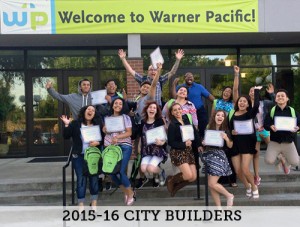 Every year, groups of students from the same city head together to the same colleges.  With few exceptions, neither colleges nor community organizations take intentional advantage of these naturally occurring cohorts to create community-based support networks and a sense of family among students between May, when most students decide which four-year college to attend, and September, when they enroll and begin college.
Warner Pacific is now intentionally developing these naturally occurring cohorts here in the Portland-metro area.
Equipped with a strong cohort, a clearly defined sense of purpose, and practical college success skills, our City Builder students will come to college with a built-in support network, ready to engage the campus and persist through adversity. Many of our City Builder students are first-generation college scholars. Nationally, first-generation college students graduate from an undergraduate program in six years at an 11% rate, or from a community college at a 4% rate.
Students who receive the City Builders Scholarship ($1,000 per year) are required to attend weekly leadership training seminars throughout the summer leading up to the start of their first year at Warner Pacific College.
Students are provided a mentor/coach to help prepare them for the transition to the college environment and to ready them for being leaders in the classroom and in community activities from the first day of school. Since participation in the weekly training is required, awards are limited to students living in the Portland metro area (within an easily commutable distance of campus).