let's get started…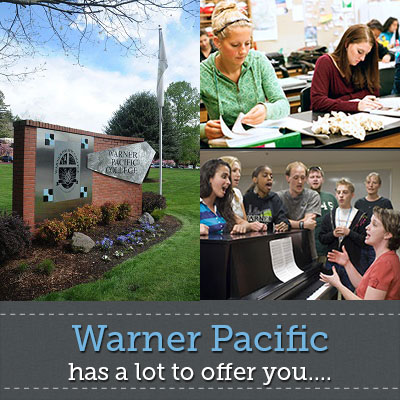 Why should you submit your college application? Warner Pacific has a lot to offer you:
Tuition that's 33 percent lower than the average private college in Portland or Washington and Oregon
Located in the heart of Portland, Oregon
A small college with student-to-faculty ratio of 11:1 ensures that you'll develop close relationships with brilliant professors
A strong liberal arts curriculum; 29 undergraduate degrees offered
The ability to grow in your faith and serve the community at a top Northwest Christian college
Competitive collegiate athletics
Opportunities to intern throughout Portland
Student leadership in clubs and organizations
A vibrant and active campus community
Life-long friendships
Recognized as a top college in the Western US by US News & World Reports
Recognized for service to the community
Ranked 48th in the nation on the Washington Monthly's 2014 Baccalaureate Colleges list
If you previously attended Warner Pacific and are reapplying, please fill out the Re-Admission Application.
Need help accessing your online application? Call the Admissions Office at 503.517.1020 or 800.804.1510.