Warner Pacific forges a partnership with Act Six, an urban scholarship initiative designed to transform the college campus and the community beyond.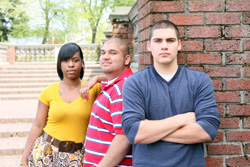 There was a time when the odds of future Warner Pacific student Adam Risnik graduating from high school – let alone attending college – were steep. As a freshman at Portland's Cleveland High School, Risnik struggled in his classes, managing C's and D's while navigating an unstable home life. His parents were addicted to drugs and his two older brothers had already dropped of high school.
"I came from a very dysfunctional home, so I didn't have a lot of structure," said Risnik, currently a 19 year-old Portland Community College student. "I was raised by my grandparents, but my parents were in the home, so it was crazy. I liked school but I didn't have the structure I needed at home … [and] I didn't have a lot to look up to."
The turning point in Risnik's life came his sophomore year, when he became involved with the youth ministry Portland Central Young Life. He found mentorship and a stable peer group and managed to graduate in 2008. He then became a Young Life leader himself, mentoring high school students at Portland's Marshall High School.
When Risnik finishes at PCC, he will transfer to Warner Pacific, thanks to the innovative scholarship program Act Six, which partners with faith-based colleges and universities to recruit underrepresented students who demonstrate leadership in their urban schools or communities. In addition to a full-need scholarship, Act Six scholars receive extensive life-skills training from Act Six staff that prepares them both to succeed in the classroom and to step out in leadership on their campuses.
"I would love to be a high school English teacher," Risnik said. "I have a younger brother who is 16 and if I can't show him that I can get out of [our economic situation], what can he do? I'm just excited and I'm up for the challenge."
Distinctly urban
Headquartered in Tacoma, Wash., Act Six's national office operates under the auspices of the Northwest Leadership Foundation, a Christian-based organization that seeks to address issues of inequality and injustice in urban settings. Act Six's recruits students of color or with low-income students, trains them as a cadre for a year prior to college entrance, secures scholarship funding, and then supports the students throughout their college experience.
The name Act Six refers to the sixth chapter of the book of Acts, in the New Testament, which describes a moment when the early Christian church experiences cultural tensions between its own people. Greek believers complain that their widows are being overlooked in the distribution of food. In response, the disciples appoint seven Greek-speaking men to work out a solution.
"The disciples choose seven folks from an underrepresented part of the body who are brought to the center of the community and empowered. That's the [Act Six] model," said Tim Herron, National Director of Act Six. "The distribution of access to higher education in America, and in particular the church, is pretty unequal. But rather than [asking] how we get more kids of color to come, this says, 'How do we empower a group of students to help us figure this out?'"
A former math teacher in Tacoma, Herron watched many promising students from the inner-city go off to college, only to return home disillusioned and without a degree. They described feeling out of place in school, lacking a sufficient peer group that understood what they were going through.
Strength in numbers
Through his research, Herron learned of a model that involved putting students from urban settings into cadres and sending them off to university as a group. In 2002, ten students from Tacoma became the first group of Act Six scholars when they enrolled at Whitworth University, in Spokane, Wash. Since then, Act Six has developed partnerships with Pacific Lutheran University, Northwest University, Gonzaga University, Trinity Lutheran College, George Fox University, and now Warner Pacific.
And the success of the program is remarkable. Among the 107 students who have participated in Act Six thus far, 93 percent have either graduated or are still enrolled. Nationally, only 50 percent of African-American and Hispanic students who earn a college degree within six years of enrolling. And two of the last three student body presidents at Whitworth have been Act Six scholars.
"Act Six students will come to campus with a sense of purpose that is really unusual for incoming students," said Herron. "Traditionally, scholarship programs for urban kids of color have [said] 'Man it's too bad you've had it rough. You really need our education. Here we'll give you this money and you can come and get this great education,' which is certainly true. But we see it as also as, 'We need [Act Six scholars] for the education of all of our students. It becomes a hub for cultural change on a college campus."
Act Six is growing nationally through the creation of local, independent chapters. Currently chapters exist in Tacoma, Spokane, Portland, and Memphis. Act Six Portland was founded in 2004 by the co-directors of Portland Central Young Life (PCYL), Ben Sands and Anthony Jordan. The co-leaders and their staff serve over 800 high school kids in the Portland area, and they came to realize that addressing the spiritual needs of their kids wasn't enough. The students also wanted a better economic future – something a college education could provide. However, they weren't necessarily prepared academically out of the chute.
As they were searching for a solution, Jordan and Sands heard Herron speak about Act Six at a conference and everything clicked. Act Six offered the structure they were looking for, so Jordan and Sands approached Herron about launching an affiliate chapter in Portland. Soon after, Act Six Portland was born. It is now housed under the Portland Leadership Foundation, which Jordan and Sands also run.
"Every kid needs Jesus, but Jesus is not all kids need," said Sands. "When a kid believes that he or she cannot go to college, we say yes you can, and hear is how you do it: by leading in your community and being committed to growing in that leadership development process."
Act Six Portland's first partner school was George Fox University, in Newberg. Ore., which has seen 31 students attend. Warner Pacific is now the second. However, while the George Fox students receive four-year scholarships, the Warner Pacific cadre will first attend two years of community college before transferring to Warner Pacific. This "Urban Service" track also calls for nine months of weekly training by Act Six staff that covers everything from money management and study skills to race relations.
"It's like boot camp. It's pretty intense," said Jordan. "It's very similar to an athlete that gets a full ride scholarship to play a sport. You're going to be expected to do x y and z because we're extending this opportunity for you to come and lead [on campus] and get your education."
Tyanna Paschal, a 2008 graduate of Benson High School, was floored when she learned last year that she was receiving a Warner Pacific / Act Six scholarship. Like Risnik, Paschal works with Portland Central Young Life, mentoring 13 girls at Grant High School. She is one of nine children in a blended family. One Monday night last year during a regular PCYL gathering, Paschal, Risnik, and a third Young Life leader, Hunter Leanord, were invited forward to meet Warner Pacific President Andrea P. Cook, who announced that the trio had been accepted into the first Act Six cadre.
"I was shocked," Paschal said. "I had no idea a scholarship was going to come through. We cried like little babies. We took pictures and said our 'thank you's".
Leanord, a 2008 graduate of Cleveland High School, says college wasn't on his horizon until the Act Six program materialized. His parents didn't attend college, and he was planning on jumping into the workforce. However, now he is looking forward to attending Warner Pacific with his fellow Act Six scholars and, like Risnik, studying to be a teacher.
"We've all grown pretty close," said Leanord. "I think that's the appealing aspect of Act Six, as well, because you have this cadre that you're going to school with as a support team. I feel like they are an extension of my family, almost. At home, I don't really have that."
Last December, Warner Pacific welcomed twenty students from Oregon schools in Portland, Woodburn, Scappoose, and Corvallis, and one student from Richland, Wash. for two days of extensive interviews in order to fill the remaining seven spots in the school's first Act Six cadre, which will officially start classes in the Fall of 2011, with subsequent cadres starting each year thereafter.
Shannon Mackey, Warner Pacific's Executive Director for Enrollment Management, said she is eager to see the Act Six program get off the ground. However, she adds that Warner Pacific already serves a number of students who come from diverse and challenging backgrounds. Act Six is serving to bring the issue more to the forefront.
"The campus doesn't necessarily realize that students like this are here already," said Mackey. "A student I mentor comes from a family that is very poor and that experienced some hard things. She is one of our best and brightest. So I look at that and say we are about to usher in ten more of those students. They're going to keep coming and they are going to transform who we are. To go home at the end of the day and know that we are a gateway to a better future [for students], I don't know how it gets better than that."
Story in the 2010 Winter issue of The Experience Magazine