What's a Paradox?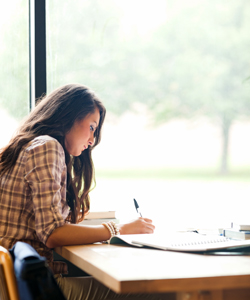 Answers to life's greatest questions aren't easy. In fact, for most complex issues, there are multiple "right answers." To fully prepare for the challenges of navigating these issues—whether they arise in personal, professional or spiritual life—students need an education that prepares them to evaluate, from all angles and perspectives, the gray areas of life's big questions.
The Humanities Core at Warner Pacific College is designed to do just that, helping prepare students to live in a world of paradox by encouraging them to consider their world from different perspectives. Through interrelated courses, students engage with life's most difficult questions and explore faith, ethics, civil responsibility and the freedom of intellectual inquiry. The program culminates in a capstone thesis in which students examine a paradox within the human condition, incorporating research from three separate academic disciplines.
A series of classes integrating the study of history, culture, language and religion, our Humanities Core helps students examine tough questions like global warming, armed revolution and stem cell research. We approach these topics not as distant, theoretical problems but as issues that will impact all of us in our lifetimes. In courses like War and Peace; Science and Technology; and Faith, Living and Learning, Christ in the City, students read some of the world's most influential novels, historical texts and philosophical essays, and wrestle with new perspectives while considering works from multiple points of view and formulating opinions through writing and extensive class discussions.
In the process, they learn how to wrestle with some of life's most important—and often toughest—questions. By developing critical reading and thinking skills to decipher good answers when no single answer is clear-cut, Warner Pacific students are thoroughly prepared for a life of leadership, service and career success.